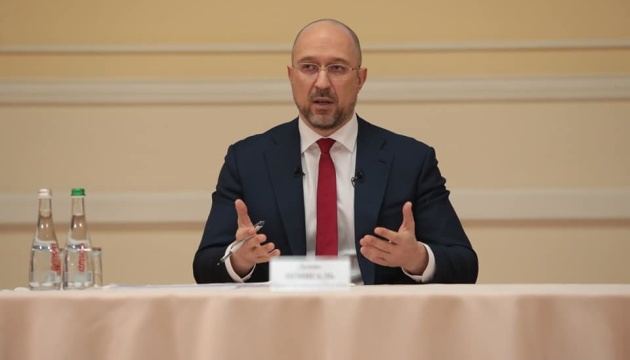 Government backs initiatives to involve citizens in discussion of state decisions - Shmyhal
The Cabinet of Ministers continues to support initiatives to encourage the involvement of citizens in the discussion of important decisions for the state, Ukrainian Prime Minister Denys Shmyhal has said.
He stated this at a panel discussion entitled "Enhancing Dialogue on Reforms Progress: Civil Society Role in Building Transparent Democracy Resilience of Ukraine" in Kyiv on Wednesday, according to an Ukrinform correspondent.
"The government continues to support initiatives that encourage the involvement of citizens in the discussion of government decisions. As part of the Open Government initiative, the Ministry of Digital Transformation is working on the development of the VzaiemoDiia [InterAction] platform, which is an online tool for cooperation between citizens and the state and is aimed at increasing the level of Ukrainians' trust in government agencies," Shmyhal said.
According to him, the creation of favorable conditions for the development of civil society is a priority for the government of Ukraine. He believes that this panel discussion is also an excellent platform for discussing key issues of interaction in the "government-parliament-civil society" triangle. "Constructive cooperation and dialogue between representatives of the government and public organizations representing the interests of society is extremely important for the human-centered and democratic development of the country, especially in the conditions of overcoming the consequences of the pandemic," Shmyhal added.
He noted that during 2020-2021, the Cabinet of Ministers actively involved the public in the formation of strategic documents, which is a guide to the development of the state. In particular, representatives of more than 20 think tanks and more than 30 business associations, as well as experts and civil society representatives, joined the development of the National Economic Strategy until 2030, which has recently been approved by the government.
Lithuanian Prime Minister Ingrida Simonyte, representatives of the European Commission, Ukrainian parliamentarians and experts took part in the panel discussion.
Earlier reports said that the Ministry of Digital Transformation and the Secretariat of the Cabinet of Ministers of Ukraine were launching the VzaiemoDiia (InterAction) e-democracy platform - a digital space in which people will communicate freely with the executive branch of government and participate in decision-making.
op