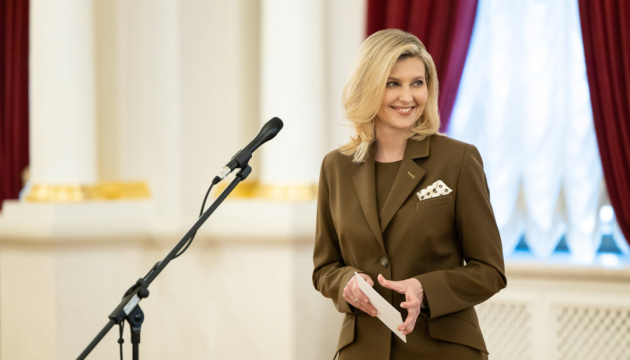 Swedish-language audio guide launched at Museum of the Battle of Poltava
Swedish-language audio guide was launched at the Museum of the Battle of Poltava with the participation of First Lady of Ukraine Olena Zelenska and Ambassador of Sweden to Ukraine Tobias Thyberg on June 17.
"I am very glad to see how the First Lady's initiative to translate the audio guide at the Museum of the Battle of Poltava in Swedish not only promotes historical and cultural ties between our countries but also makes such historical monuments in Ukraine more accessible to visitors from Sweden," Thyberg said, the President's Office informs.
In addition, Zelenska, Ambassador Thyberg, and Representative of the United Nations Population Fund (UNFPA) to Ukraine Jaime Nadal opened a club for responsible dads "TATO-Hub Poltava".
"Equality of rights for mother and father in child care is one of the areas of work that Ukraine has set for itself by joining the Biarritz Partnership International Initiative last year - the Equal Opportunities Partnership. And I must say, we are confidently moving towards our goals. A law has recently come into force that gives men the right to take full parental leave for the first three years. And also the right to paid fourteen-day leave in the first three months after the birth of a child," said Olena Zelenska.
The purpose of creating "TATO-Hub Poltava" is to popularize the idea of involved and conscious fatherhood among the city's residents. "TATO-Hub" is a club for dads, where men can learn, communicate and become closer to their children, thereby improving family relations.
"In the 1970s, when Sweden first introduced joint parental leave, it was rare to see parents taking advantage of it, as staying home with their children was still considered a woman's job. However, over the decades, Swedish dads have become bright examples of involved parents, and about 90% of Swedish dads are now taking parental leave. "By opening such important places for parents as TATO-Hub, Poltava is taking great steps to change the perception of the role of parents and provide them with valuable opportunities for communication," Thyberg said.
ol