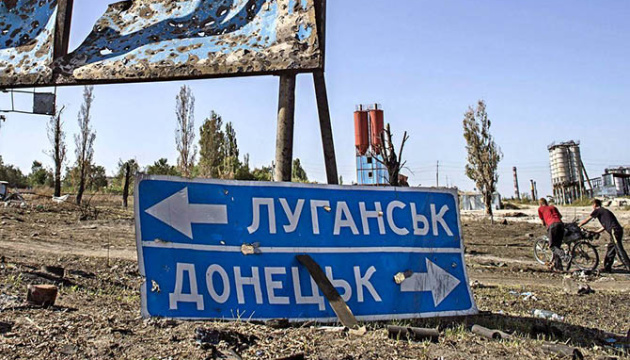 One in three Ukrainians against amnesty for crimes in eastern Ukraine
Some 28% of Ukrainians do not support any amnesty for crimes committed in eastern Ukraine, according to a survey on the attitude of Ukrainian citizens to trust-building tools aimed at residents of the temporarily occupied territories.
Yulia Tyshchenko, co-founder of the National Platform "Dialogue on Peace and Safe Reintegration," said this during a presentation of the survey, according to an Ukrinform correspondent.
"Regarding the attitude to amnesty, on average 7% in Ukraine support amnesty for everyone, regardless of the severity of crimes. This is an equally negative attitude of the population from different regions of Ukraine. [...] Some 28% are against any measures regarding amnesty," she said.
Tyshchenko said that according to the poll, 29% of Ukrainians believe that amnesty for members of illegal armed groups in the non-government-controlled part of Donetsk and Luhansk regions could be applied depending on the personal situation and it should be considered individually. Also, 12% believe that amnesty can be applied only to those who have committed minor crimes.
The survey was conducted by the Info Sapiens research agency on behalf of the National Platform "Dialogue on Peace and Safe Reintegration." A total of 1,000 respondents over 16 years of age were interviewed. The poll was conducted throughout Ukraine except for the temporarily occupied territories of Donetsk and Luhansk regions and the Autonomous Republic of Crimea. The poll's margin of error is 3.2%. The field phase of the study lasted from February 14 to March 1.
The National Platform "Dialogue on Peace and Safe Reintegration" was launched in 2018. This is a platform for discussing conflict resolution issues. The activities of the National Platform are aimed at strengthening consensus and resilience. Since 2019, the initiative has been funded by the EU's Instrument contributing to Stability and Peace (IcSP) as part of the project "Building Resilience to Conflict through Dialogue."
op