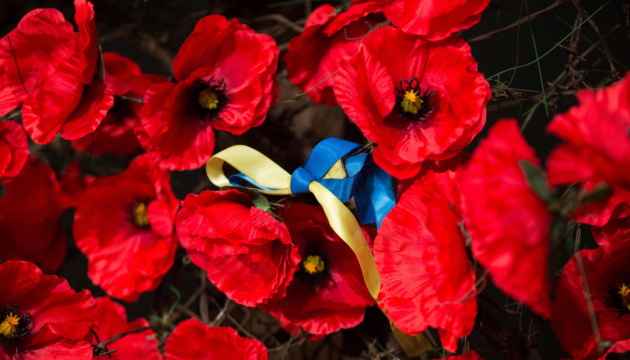 Ukraine marks Day of Remembrance and Reconciliation
On May 8, Ukraine marks the Day of Remembrance and Reconciliation to commemorate the victims of World War II.
This day honors the memory of more than 80 million people whose lives were claimed by global-scale violence, people of all races and nations — those who died on the fronts, in the trenches, those killed in bombing, held in captivity, concentration camps, or went missing in the whirlwind of war.
The German Instrument of Surrender signed on 7 May 1945 at Reims was an armistice agreement that ended World War II in Europe effective 23:01 Central European Time on 8 May 1945. On this occasion, crowded celebrations were held in many cities of Europe and the United States. However, at the request of the Kremlin, a slightly modified text was signed in Karlshorst, Berlin, on May 8, 1945, at 22:43 Central European Time (on May 9, at 00:43 Moscow time) by representatives of the three armed services of the Oberkommando der Wehrmacht (OKW) and the Allied Expeditionary Force together with the Supreme High Command of the Red Army, with further French and US representatives signing as witnesses.
The Time of Remembrance and Reconciliation for Those Who Lost Their Lives during the Second World War (May 8 and May 9) is an annual international day of remembrance designated by Resolution 59/26 of the United Nations General Assembly on November 22, 2004. The resolution urges 'Member States, organizations of the United Nations system, non-governmental organizations and individuals' to pay tribute to the victims of World War II.
The Assembly also stressed that this historic event had paved the way for the creation of the United Nations Organizations to save future generations from the calamity of war, and called on the UN Member States to unite efforts to address new challenges and threats and to do their utmost to settle all disputes by peaceful means in accordance with the UN Charter and in a way not to further threaten international peace and security.
In Ukraine, the Day of Remembrance and Reconciliation was established by the Law of Ukraine "On Immortalization of the Victory over Nazism in World War II of 1939-1945". Thus, Ukraine began a new tradition of marking May 8 and 9 in the European spirit of remembrance and reconciliation.
This day is set to "honor the heroism of the Ukrainian people, their outstanding contribution to the victory of the Anti-Hitler Coalition in World War II, to pay tribute to all fighters against Nazism, to perpetuate the memory of the dead."