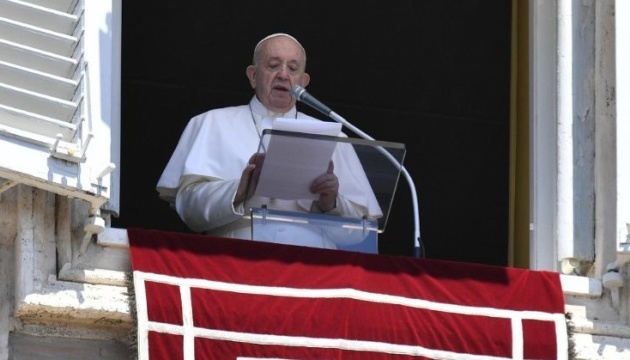 Pope calls for peace and reconciliation in eastern Ukraine
His Holiness Pope Francis is following events in eastern Ukraine with great concern and calls for peace and reconciliation.
He said this in his Sunday address to the faithful, with whom he prayed for peace in the Russian-occupied Ukrainian territories, Ukrinform reports with reference to Vatican News.
"I am following with great concern events in areas of eastern Ukraine, where violations of the ceasefire have multiplied in recent months," the Pope said.
Expressing his deep concern about an increase in military activities in the area, he said: "I strongly hope an increase in tensions will be avoided, and, on the contrary, that gestures be made that are capable of promoting mutual trust and fostering reconciliation and peace, which are so much needed and so much desired."
The Pope also highlighted the grave humanitarian situation affecting the population in the areas where tensions continue and said he is close to the people.
As Ukrinform reported, the Russian armed forces have recently been building up troops near the state border of Ukraine in the north, east and south, as well as in occupied Crimea. In addition, the number of ceasefire violations by the armed formations of the Russian Federation in eastern Ukraine has increased; there are losses among the soldiers of the Armed Forces of Ukraine. At the same time, the Russian Federation is conducting a propaganda campaign to justify possible aggression against Ukraine.
The U.S. and the EU announced their support for Ukraine and called on Russia to withdraw its troops from the Ukrainian border.
Photo credit: Vatican Media
ish