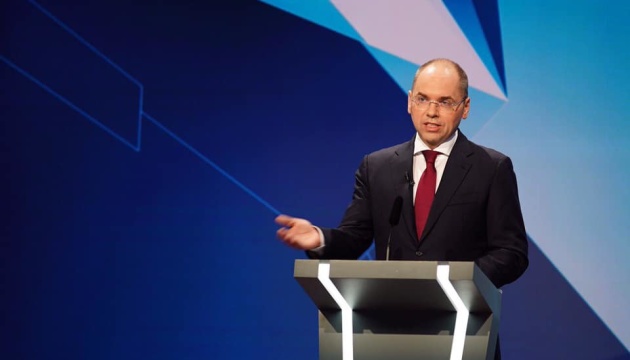 Ukraine manages to survive peak of third wave of coronavirus pandemic – Stepanov
The number of those discharged from hospitals yesterday, April 13, exceeded the number of hospitalized ones by 22.8%, Health Minister Maksym Stepanov has said.
"We have experienced another surge in the incidence of COVID-19. The situation started to improve gradually. As our epidemiological experts predicted, the number of new patients continued to rise until early April," Stepanov wrote on his Facebook page on Wednesday, April 14.
According to him, the situation is now stabilizing in many regions. "For 10 days in a row, we have been observing a decline in the incidence in Ukraine. Yesterday was the first day when the number of those discharged from hospitals exceeded the number of hospitalized ones by 22.8%. A few regions, in particular Ivano-Frankivsk and Chernivtsi regions, left the "red" zone," he added.
The minister noted that "if we look at the hospitalization rate, we will see that there were 2,000 fewer hospitalizations last week than a year earlier." There is also a decrease in the number of new cases.
"Thanks to a clear strategy and verified actions of the Health Ministry, Ukrainians managed to survive the peak of the third wave of the pandemic without panic and with minimal restrictions. Our adaptive quarantine, the effectiveness of which was also evaluated in Europe, was a kind of balance between the life of the country, the work of entrepreneurs and epidemiology," Stepanov said.
According to him, the Health Ministry constantly kept its finger on the pulse, increasing the number of oxygen-supplied beds in accordance with the needs, updating treatment protocols in order to effectively resist the disease.
"But some regions, in particular the city of Kyiv, as well as Kyiv, Lviv and Poltava regions, continue to be in the "red" zone of increased epidemic danger; the situation there remains extremely difficult. It is crucial to continue adhering to the established restrictions and anti-epidemic measures - wearing masks, using antiseptics, and avoiding crowds," Stepanov said.
The minister also thanked the doctors who saved many lives, despite the exhaustion and danger to their own health.
As reported, Ukraine recorded 14,553 new coronavirus cases in the past 24 hours, bringing the total number of confirmed COVID-19 cases to 1,887,338.
ish