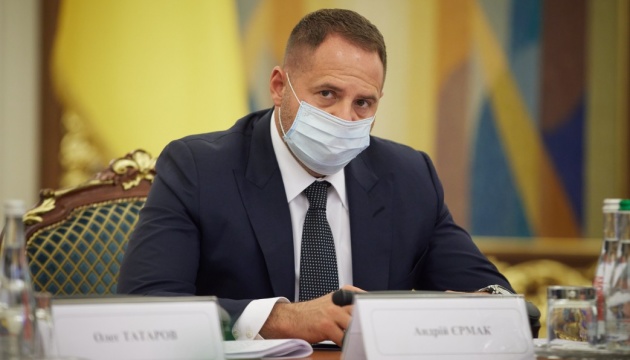 Yermak: G7, EU ambassadors welcome establishment of Center for Countering Disinformation
The ambassadors of the G7 countries, the European Union and NATO representatives welcome the establishment of the Center for Countering Disinformation and have already begun to cooperate with it.
"A few hours ago, we had a meeting with our international partners, G7 ambassadors, EU ambassadors, representatives of NATO and other countries who welcome and have already started cooperating with the Center for Countering Disinformation. Therefore, it will be a truly international center," Head of the President's Office Andriy Yermak said, while introducing Head of the Center Polina Lysenko, an Ukrinform correspondent reports.
He stressed that "Ukraine is now the epicenter of disinformation, the epicenter of hybrid conflict, hybrid war."
"Not only Russia's military aggression, which is taking place in Donbas, but disinformation currently concerns almost every aspect of the life of our society," he said.
On April 2, President Volodymyr Zelensky appointed Polina Lysenko as the Head of the Center for Countering Disinformation.
The Center for Countering Disinformation was established by a decision of the National Security and Defense Council of Ukraine of March 11, enacted by a presidential decree of March 19.
ol