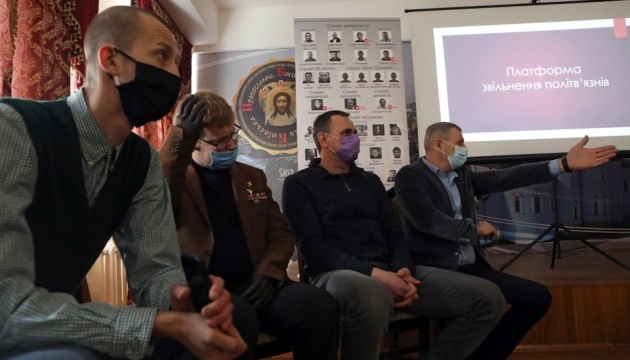 Former Kremlin's political prisoners set up Release of Prisoners platform
Former Kremlin's political prisoners have set up the Release of Prisoners platform.
The presentation took place at the St. Michael's Golden-Domed Monastery with the participation of representatives of the Orthodox Church of Ukraine, the Ukrainian Greek Catholic Church, the Religious Administration of Muslims of Crimea and foreign ambassadors, an Ukrinform correspondent reports.
"The platform is a non-partisan association created to protect the rights and release all those imprisoned for political reasons in the occupied territories and within the country. Our goal is to restore justice for everyone, release political prisoners and counter Russian aggression," said Pavlo Hryb, a former political prisoner and co-founder of the platform.
He also stressed that the newly formed association would operate exclusively on the basis of international and Ukrainian law.
Former political prisoner and platform's co-founder Oleh Sentsov stressed that the platform members expected the release of political prisoners to become a priority for the Ukrainian authorities and international partners.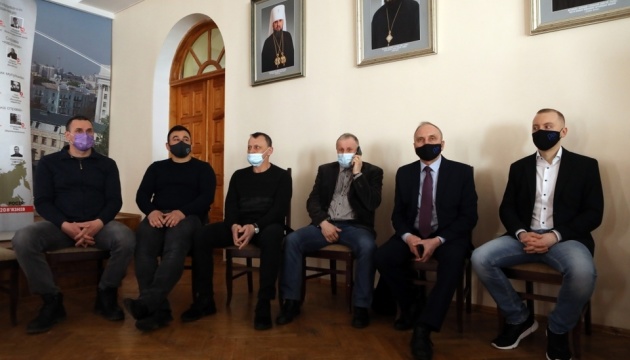 "Our goal is to do everything possible so that political prisoners are known, remembered and talked about all the time," Sentsov said.
The founders of the platform are also Volodymyr Zhemchuhov, Roman Sushchenko, Mykola Karpyuk, Edem Bekirov, Akhtem Chiygoz, Stanislav Aseev, Oleksandr Kolchenko, Volodymyr Balukh, Ihor Kozlovsky, Yevhen Panov, Ilmi Umerov, Mykola Semena, Ismayil Ramazanov, Oleksandr Shumkov, Ihor Movenko.
Former Ukrinform correspondent Roman Sushchenko was sentenced in Russia to 12 years in prison on "espionage" charges and stayed behind the bars for three years. Crimeans Sentsov and Kolchenko were sentenced to 20 and 10 years, respectively, on charges of "plotting terrorist attacks" in the occupied Crimea. They were released as part of an exchange in 2019.
As reported, the Russian Federation currently holds in custody more than 100 political prisoners from the occupied Ukrainian territories.
ol