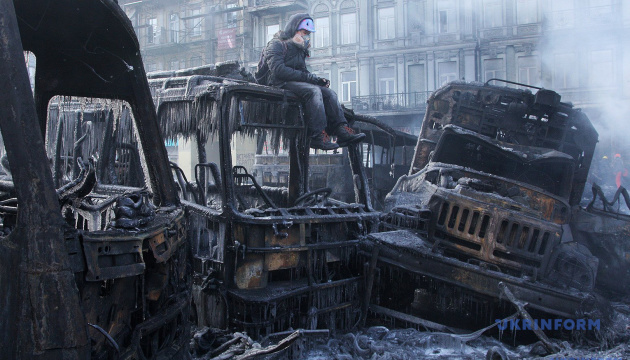 Revolution of Dignity: Shootings on Hrushevsky Street continued all night long seven years ago
During the Revolution of Dignity, at dawn on January 25, 2014, the parties to the conflict stopped firing on each other.
On that day, one of the protesters took the state flag and went to negotiate with the security forces. After negotiations, the protesters were ordered to stop the attack at the first barricade. The explosions on Hrushevsky Street subsided for a while.
On January 25, the building of the Ministry of Energy and Coal Industry was occupied in Kyiv center. The day before, protesters occupied the building of the Ministry of Agrarian Policy.
Regional state administrations in eight regional centers of Ukraine also remained seized. Administrations in four cities – Poltava, Chernihiv, Uzhgorod and Lutsk – were besieged.
On the same day, Viktor Yanukovych agreed to introduce amendments to the Constitution of Ukraine and declared his readiness to create a working group for the transition to a parliamentary-presidential republic. In addition, opposition leaders Arseniy Yatsenyuk and Vitali Klitschko rejected Yanukovych's proposal to assume positions in the Cabinet.
ol