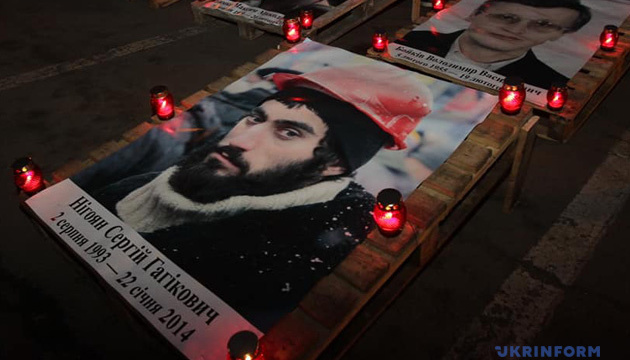 7th anniversary of Revolution of Dignity: first Heroes of Heavenly Hundred killed on this day
On January 22, 2014, the Revolution of Dignity suffered the first casualties who will later be called the Heroes of the Heavenly Hundred.
Clashes on Hrushevskoho Street began on January 19, when the traditional Sunday viche [public assembly] grew into a march of protesters to the Verkhovna Rada. The entrance to the government quarter was blocked by the Berkut riot police officers. A serious confrontation began: Euromaidan protesters overturned buses used by police, threw bottles filled with gasoline and cobblestones at Berkut officers. Tires were set on fire to fill the streets with smoke; overturned buses began to burn. In response, Berkut officers used tear gas and traumatic weapons, threw flash-bang grenades and then used water cannons against protesters.
The clashes on Hrushevskoho Street, which lasted with varying activity for more than two days, ended on January 21 when the clergy took to the streets. Standing between Euromaidan activists and law enforcement officers, they began to pray, calling on the parties to end the conflict and repent. Thus, changing each other, the priests managed to keep the opposite sides from violent confrontation over the period of 24 hours.
However, the next morning, January 22, the Berkut riot police officers went on the offensive and pushed the protesters away from the Yevropeiska Square for a while.
On that day it became known about the first people who were killed during the Euromaidan protests. On the morning of January 22, 21-year-old Serhiy Nihoyan from Dnipropetrovsk region received a fatal wound to a head. Later, 25-year-old Belarusian Mikhail Zhyznevski received a fatal cardiac gunshot wound. Both men were Euromaidan activists and took part in the protests from the very beginning.
On the same day, a body of Yuri Verbytskyi, a Euromaidan activist from Lviv, was found with traces of torture in a forest near Kyiv. He had been abducted by unknown individuals from the hospital the day before.
Roman Senyk and Oleksandr Badera were wounded and died in hospitals over the next week.
ol