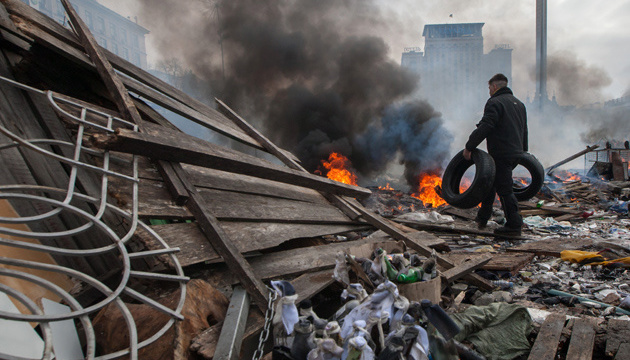 7th anniversary of Revolution of Dignity: 'truce' in fierce clashes and prayers on this day
On the night of January 20-21, 2014, the clashes between Euromaidan activists and law enforcement officers continued.
As a result of the clashes, the protesters were pushed back from the barricades but they managed to regain their position already in the morning, Ukrinform reports.
At about 09:00 on January 21, priests came to Hrushevskoho Street. Standing between Euromaidan activists and law enforcement officers, they began to pray, calling on the parties to end the conflict and repent. For almost two days of continuous clashes, it was the clergy who managed to establish a truce. Dozens of protesters lined up behind a barricade constructed from burned police buses. Law enforcement officers stood at a distance of a few dozen meters, sheltering themselves behind metal shields.
Thus, changing each other, the priests managed to keep the opposite sides from violent confrontation over a period of 24 hours.
However, the next morning, January 22, the Berkut riot police officers went on the offensive.
In addition, on January 21, despite numerous protests and appeals from the international community and Ukrainians, the so-called "dictatorship laws of January 16" [which violated the principles of freedom of expression, freedom of assembly and demonstrations, as well as freedom of the media] were published in the Holos Ukrainy parliamentary newspaper and the Uryadovyi Kurier government newspaper.
Most of the laws came into force the day after their publication, i.e. on January 22 –Ukraine's Unity Day. The publication of those documents was met with outcry from Ukraine and abroad.
ol