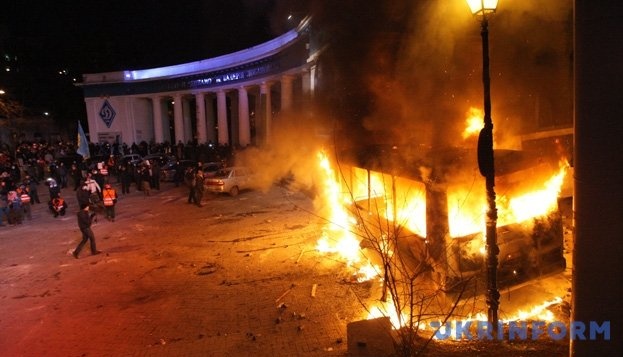 7th anniversary of Revolution of Dignity: ongoing clashes, wounded protesters on this day
On January 20, 2014, during the Revolution of Dignity, the confrontation on Maidan continued.
Clashes on Hrushevskoho Street began on January 19, when the traditional Sunday viche [public assembly] grew into a march of protesters to the Verkhovna Rada. The entrance to the government quarter was blocked by the Berkut riot police officers. A serious confrontation began: Euromaidan protesters overturned buses used by police, threw bottles filled with gasoline and cobblestones at Berkut officers. At the same time, six buses and police trucks were burned. Berkut used percussion grenades, rubber bullets and water cannon against the protesters.
On the night of January 20, dozens of people were injured. In addition, 24 journalists were injured in clashes between police and protesters on January 19-20. According to the Euromaidan medical service, 1,400 people were injured on Hrushevskoho Street on January 19-20. According to official data, 122 people sought medical help in Kyiv healthcare facilities, 50 of them were hospitalized.
At the same time, another "round table" meeting between the then authorities and opposition leaders was scheduled for January 20. However, the meeting did not take place.
After these events, the US leadership and representatives of the European Union started to talk about the imposition of sanctions on the then Ukrainian authorities.
ol