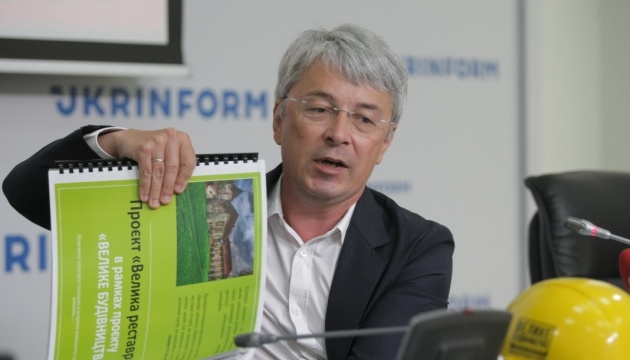 Tkachenko: Canadian experts to take part in Great Restoration project
Minister of Culture and Information Policy of Ukraine Oleksandr Tkachenko discussed during an online meeting with Minister of Canadian Heritage Steven Guilbeault possible cooperation between Ukrainian and Canadian experts in the area of filmmaking, museum and archival affairs, restoration of cultural monuments and more.
"We had much to discuss during the online meeting. The more especially as our countries recently ratified the audiovisual cooperation agreement. I am glad to announce that we agreed to hold a series of webinars between producers and film agencies of Canada and Ukraine in the near future," Tkachenko posted on Facebook.
The ministers discussed possible cooperation in the following projects: the Great Restoration project – possible participation of Canadian experts and restorers; creation of Ukrainian-language audio guides for Canadian national museums; involvement of Ukrainian experts in the digitalization of Ukrainian-Canadian archives; continued exchange of cultural events between Ukraine and Canada.
In addition, Tkachenko and Guilbeault discussed the designation of the Chornobyl Zone as UNESCO World Heritage Site, the commemoration of the Holodomor victims and the anniversary of the Babyn Yar tragedy.
As reported, the Great Restoration project is to start in Ukraine in 2021. The implementation of the project aims not only to preserve cultural objects but also to make them self-sufficient so that they increase their revenues.
ol