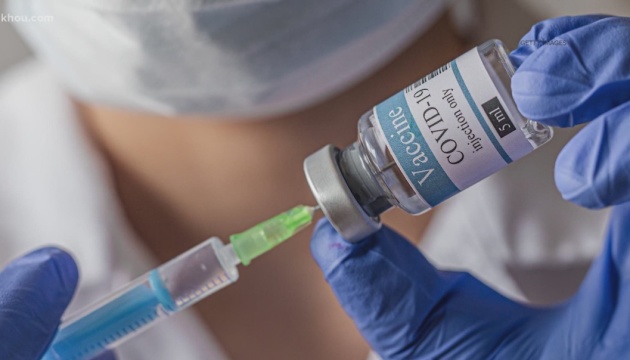 European Commission asked to assist in providing Ukraine with COVID-19 vaccines
The European Commission received a letter from 13 EU member states with a request to speed up assistance in the fight against the COVID-19 pandemic for the Eastern Partnership countries - Ukraine, Georgia, Moldova, Armenia, Azerbaijan and Belarus.
"We confirm that we received such a letter this morning and will respond to it in the prescribed manner. We have made it clear from the outset that we are exploring a possibility to help our partners in the Western Balkans, our immediate neighbors in the East, the South and beyond, and we also appreciate the possibility of such assistance in a humanitarian context. The relevant statements were made by the European Commission President and EU Commissioner [for Enlargement and Neighborhood] Várhelyi. So this work continues," Ana Pisonero, European Commission's Spokesperson said at a briefing in Brussels on Wednesday, an Ukrinform correspondent reported.
The Spokesperson confirmed that the European Commission is currently studying the most effective ways of such assistance, in particular, in cooperation with international and European financial institutions within the framework of the Team Europe initiative. According to her, the EU has always advocated a multilateral approach to the distribution of coronavirus vaccines, and this is one of the reasons why the EU is so strong in supporting the COVAX Facility which is used to provide COVID-19 vaccines to low- and middle-income countries.
Ana Pisonero reminded that the vaccination strategy developed in the EU provides for the possibility for member states to transfer part of the vaccine doses. The EU is currently developing a mechanism to facilitate the transfer or sale of excess doses of vaccine, which are currently purchased by the EU member states through forward purchases made by the European Union.
"These discussions with member countries and partner countries are ongoing. We are not yet in a position to provide further details at this stage. But the European Commission is trying to facilitate such a discussion," the European Commission's Spokesperson added.
According to the European media reports, 13 EU countries sent a letter to the European Commission and the Council of EU asking to be more active in helping partner countries fight the coronavirus pandemic. The letter was signed by representatives of the governments of Bulgaria, Croatia, the Czech Republic, Denmark, Estonia, Finland, Latvia, Lithuania, Hungary, Poland, Romania, Slovakia and Sweden.
ol