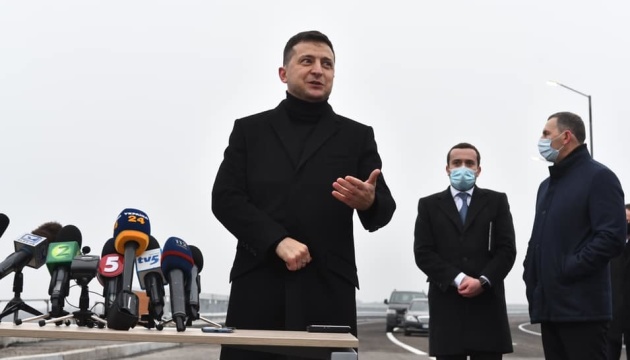 Zelensky wants to unite west and east of Ukraine with big highway
The construction of the Zaporizhia Bridge, which will symbolically unite the west and east of Ukraine, is to be completed before the 30th anniversary of the country's independence, President Volodymyr Zelensky has said.
He said this during his working visit to Zaporizhia on Thursday, December 24, according to an Ukrinform correspondent.
"We are preparing for several infrastructural victories ahead of the 30th anniversary of Ukraine's independence. One of them is the Zaporizhia Bridge. We want to unite the west and the east with a big highway," Zelensky said.
He also said that in Zaporizhia, he visited the Motor Sich and Iskra enterprises.
The Zaporizhia Bridge is a highway over nine kilometers long, consisting of six transport interchanges. The bridge has been built for 16 years.
op