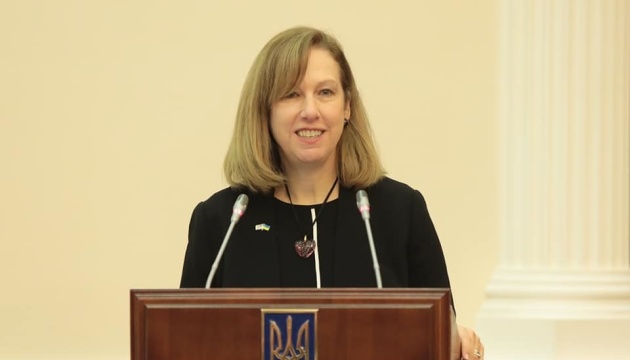 Kvien: Ensuring gender equality in public authorities is challenge both for US and Ukraine
The representation of women in middle management is roughly the same in the United States and Ukraine, while ensuring gender equality at the highest levels of public authorities and business is a challenge for both countries.
"Studying statistics on Ukraine and the United States before this Congress, I saw very interesting patterns and dependencies: 23% of the Senate members are women and 21% of the Verkhovna Rada members are women. Women account for about half of the workforce in both countries. But when it comes to women at senior positions or at the highest levels of public authorities or business, women's representation is much lower both in Ukraine and in the United States," United States Chargé d'Affaires in Ukraine Kristina Kvien said at the IV Ukrainian Women's Congress, an Ukrinform correspondent reports.
She added that the challenge for both countries was not only how to provide women with opportunities to work but also how to help them move up the career ladder to the highest levels of society and business.
"It's a double challenge. I cannot say that Ukraine lags behind the United States in these dimensions," the diplomat said.
According to the U.S. Chargé d'Affaires in Ukraine, proper representation of women in parliamentary committees, management positions in business, at the level of regional and local authorities is very important as it will ensure a greater balance of decisions by taking into account different mindsets and different points of view.
Kvien noted that the United States and Ukraine had worked closely over the past decade to promote gender equality through the United States Agency for International Development (USAID).
"We support Ukraine in fulfilling its commitments as a partner in ensuring gender equality being an integral part of democratic and economic development," said the U.S. Chargé d'Affaires in Ukraine.
ol