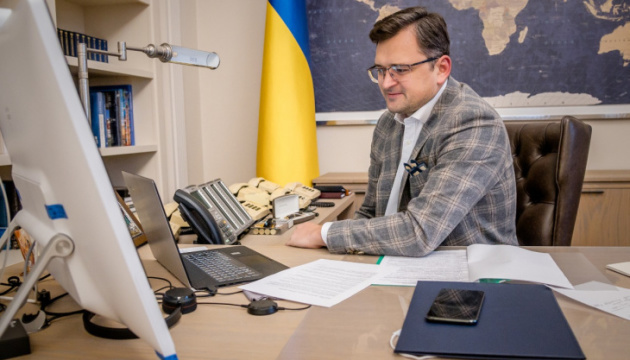 Kuleba invites UWC to take part in development of new policy towards Ukrainians abroad
Ukrainian Foreign Minister Dmytro Kuleba has invited the Ukrainian World Congress (UWC) to take part in the development of a new national policy towards Ukrainians abroad.
Kuleba said this during a video conferencing meeting with Ukrainian World Congress (UWC) President Paul Grod on November 19, the Foreign Ministry's press service reported.
"Dmytro Kuleba said that Ukraine needs a new effective public policy towards Ukrainians living abroad. He told Paul Grod that the Ministry of Foreign Affairs has already begun work on its creation and invites the UWC to take an active part in its development together with the ministry," the report says.
The minister assured of the invariability of the ministry's priorities in cooperation with the UWC and foreign Ukrainians. Among them, Kuleba, in particular, named the protection of Ukraine from Russian aggression, the development of an economically successful Ukraine on its path to European and Euro-Atlantic integration, support for the rights of Ukrainians living abroad, as well as Ukrainian education abroad, popularization of the Ukrainian language, and international recognition of the Holodomor of 1932-1933 in Ukraine as genocide of the Ukrainian people.
ish