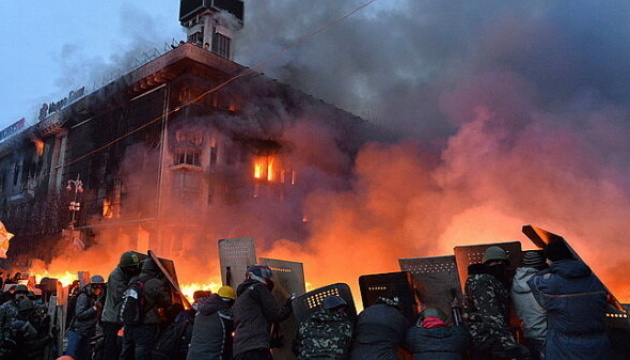 Seventh anniversary of Euromaidan: Prosecutor General says 86 cases already in court
The State Bureau of Investigation conducts investigations into 60 cases related to Euromaidan protests, and 86 cases are already considered in courts.
"Prosecutors of the Euromaidan Department of the Prosecutor General's Office are currently conducting pre-trial investigations in 60 criminal cases involving more than 4,300 episodes. The courts of the first instance ensure support for public prosecution in 86 cases involving 176 people," Prosecutor General Iryna Venediktova said in a video address on the occasion of the 7th anniversary of Euromaidan.
Since the beginning of this year, 37 people have been served with the notice of charges, including 26 law enforcement officers, three judges and eight civilians.
In addition, according to the Prosecutor General, the courts imposed pre-trial restraints in absentia in form of detention on 27 suspects, including 22 former law enforcement officers, 4 former high-ranking officials and one civilian.
"Such court rulings give the prosecution an opportunity, after completing all appellate proceedings, to initiate extradition of these high-ranking officials and apply to the court for permission to conduct a special pre-trial investigation," Venediktova said.
In 2020, prosecutors have received permission of a court to conduct a special pre-trial investigation against five former Berkut riot police officers suspected of committing intentional homicide of 48 people and attempted intentional homicide of 80 people, terrorist acts and other crimes.
In total, the Euromaidan Department prosecutors have filed 19 indictments against 25 people, including 6 judges and 13 law enforcement officers, this year, Venediktova said.
According to the Prosecutor General, since the beginning of the investigation into the Euromaidan cases, prosecutors have filed 110 indictments against 206 people. Convictions against 21 people have already entered into force.
As reported, 2,500 people were injured and wounded during the Euromaidan protests, 104 of them were killed. According to the Ministry of Internal Affairs, 17 security officers were killed while on duty in the center of Kyiv from February 18 to March 2, 2014.
ol