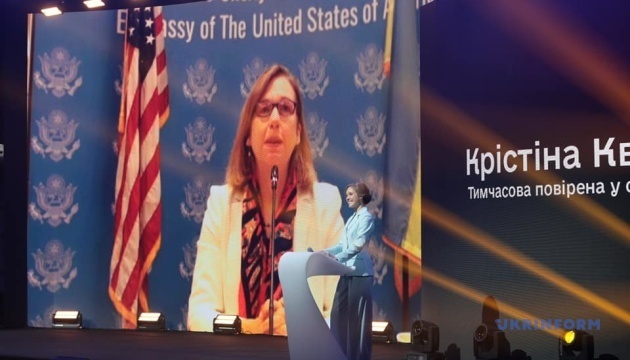 Kvien: Ukraine and California have similar cultural dynamics
Ukrainians' awareness of the uniqueness of their culture expands the possibilities of the US-Ukraine cooperation in the cultural sphere.
"Ukrainians begin to understand how unique their culture is, and they begin to share it outside of Ukraine. This expands the opportunities for interaction between our countries in the cultural sphere. As you know, I'm from California, entertainment and culture are "embedded" in the DNA of Californians, and here in Ukraine I see dynamics resembling that of California," U.S. Chargé d'Affaires in Ukraine Kristina Kvien said at the Creative Ukraine 4th annual international forum, an Ukrinform correspondent reports.
The diplomat noted that the world-famous Ukrainian Shchedryk song [also known as Carol of the Bells] became an extremely popular Christmas song in the United States. In addition, Americans are becoming increasingly interested in the Eurovision song contest, which Ukraine has won already twice.
"Ukrainian national embroidered shirts appear more and more often at fashion shows and show the rich tradition of Ukrainian embroidery to the world. Ukraine is also a 'culinary Mecca.' You have a lot of new young chefs who create new interesting previously unknown dishes. We also see increased attention to such Ukrainian traditional dish as borshch which now seeks UNESCO cultural heritage listing. Ukrainian chefs such as Yevhen Klopotenko help the world appreciate Ukraine's unique culinary tradition... Generations of viewers have seen American history and traditions through the power of cultural products. We see the same thing happening in Ukraine," the U.S. Chargé d'Affaires in Ukraine said.
Kvien also reminded that the United States supported the creative industries in Ukraine through USAID and would continue to help develop a partnership between creative civil society and the Government to show Ukrainian culture to the world.
As reported, the Creative Ukraine 4th annual international forum is held in offline and online formats due to the coronavirus pandemic. Over two days, the participants will consider the current state and prospects of creative industries in Ukraine.
Representatives of the Ukrainian authorities, EU and British officials, well-known figures of creative industries, representatives of HBO and other world-famous companies, Stanford and Harvard professors, founders and managers of leading Ukrainian businesses working in the creative sector of the economy are among the guests and participants of the forum.
ol