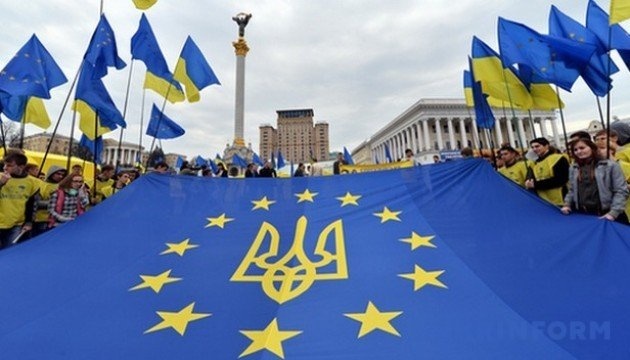 Nearly half of Ukrainians support accession to EU
Almost half of Ukrainians support Ukraine's accession to the European Union, according to a survey conducted by the Kyiv International Institute of Sociology (KIIS).
KIIS Deputy Director Anton Hrushetskyi announced the results of the poll at a press conference on Wednesday, November 11.
"If we talk about the integration vector, pro-European sentiments still prevail, but with serious regional specifics. In general, 49% of respondents in Ukraine choose the European Union if they have to choose between the European Union, the Customs Union and neutral status. Some 14% would like Ukraine to join the Customs Union, and another 27% believe that Ukraine should not join any of the unions," Hrushetskyi said.
The expert said that 69% in western Ukraine and 25% in Donbas support their country's rapprochement with the EU.
When it comes to the security vector, 41% of respondents support Ukraine's accession to NATO, 37% support non-aligned status, and 13% believe that Ukraine should be a member of the Collective Security Treaty Organization with Russia and other countries.
At the same time, Hrushetskyi noted that support for Ukraine's accession to NATO is also declining from west to east.
The survey was conducted between October 17 and October 24, 2020, via CATI (computer-assisted telephone interviewing) based on a random sample of mobile phone numbers.
The sample is representative of the adult population (18 years and older) of Ukraine. The sample does not include territories that are temporarily not controlled by the Ukrainian authorities - the Autonomous Republic of Crimea, some districts of Donetsk and Luhansk regions. Some 1,502 interviews were conducted during the survey. The poll's margin of error (with a probability of 0.95 and without taking into account the design effect) does not exceed 2.6% for figures close to 50%, 2.2% for figures close to 25%, 1.7% for figures close to 10%, and 1.1% for figures close to 5%.
op