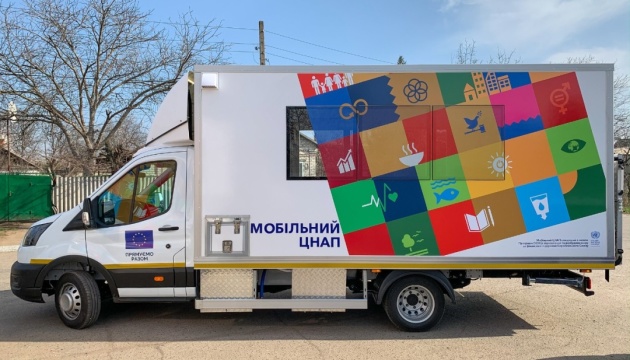 EU, UN hand over mobile administrative service centres to communities in eastern Ukraine
Two amalgamated territorial communities in Luhansk and Donetsk regions have received mobile administrative service centres from the UN and the European Union, the press service of the UN Development Programme in Ukraine has reported.
According to the report, the mobile centres, specially equipped vehicles, will render public services to the most vulnerable populations in communities of Donetsk and Luhansk regions.
"Today, the United Nations Development Programme (UNDP), and the European Union transferred two mobile Administrative Service Centres (ASCs) to the Lyman amalgamated territorial community (ATC) in Donetsk Oblast and Troitske ATC in Luhansk Oblast (both in conflict-affected eastern Ukraine), allowing local people to obtain public services more quickly and easily," the UNDP said in a press release on November 9.
The official transfer was organized by UNDP under the UN Recovery and Peacebuilding Programme (UN RPP), with financial support from the European Union.
Frederik Coene, acting Head of Cooperation at the EU Delegation to Ukraine, said support for the people in the east of Ukraine, in particular on decentralisation and access to administrative services, has been one of the key areas of EU's work in the region.
"Since 2016, we have established 16 stationary administrative service centres in Donetsk and Luhansk oblasts. The launch of six mobile centres – two last December, two in May, and two more today – has significantly expanded the outreach of stationary centres," Coene said.
Each mobile ASC has two working spaces for administrators, both equipped with computers, modern software, a portable server and internet access; and two mobile cases – one for providing administrative services and another for carrying out energy audits. The vehicles also have security cameras, GPS-navigation, two types of the autonomous heating systems, ventilation, air conditioning, the ability to connect to external energy sources, a bathroom with its own hot and cold water supply, a mobile elevator ramp for people with disabilities and low mobility groups, and a waiting area.
The mobile ASCs are also equipped with remote working spaces for specialists from the pension fund, lawyers, and workers from the social security department, the State Emergency Service, and other services. The overall cost, including all of the equipment and training for the specialists, is $115,000.
op