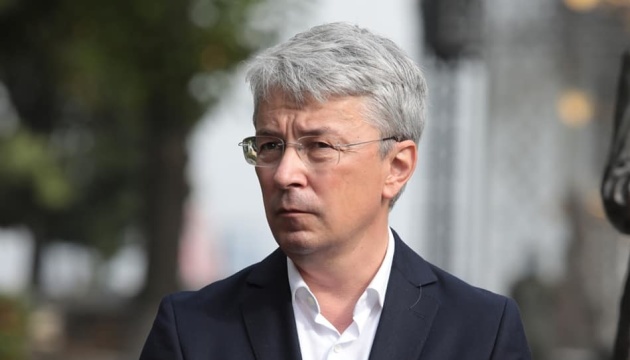 Ukrainian language should be developed through popularization - Tkachenko
The Ukrainian language should be developed through popularization and interest, rather than through bans and extremes, according to Minister of Culture and Information Policy Oleksandr Tkachenko.
He wrote this on his Telegram channel, congratulating his compatriots on the All-Ukrainian Cultural Workers and Folk Artists Day and the Day of Ukrainian Writing and Language.
"Culture is what unites us. Language should also be one of those things. I'm sure it will happen soon. We are on the verge of change. Finally, more Ukrainian films, TV series, shows and digital content are being shot in Ukraine, books are being published and plays are being staged. People start speaking Ukrainian at home in the east, north and center of Ukraine not out of coercion, but out of love and pride. We are going in the right direction. It is important to continue going this way," Tkachenko said.
According to him, it is important that the weight of culture and its perception in the state begin to reach a completely new higher level. This year, every employee in the field of culture and creative industries experienced difficulties because the beginning of 2020 marked a dramatic turn in life called COVID-2019, which forever changed the existence of the field, Tkachenko wrote.
"Being among the challenges and the struggle for existence, you did not give up and continued to do everything so that Ukrainians would not lose access to cultural services, and hundreds of thousands of your colleagues would keep their jobs. Thanks to you, the voice of culture sounded as convincing as it has ever sounded. Politicians are starting to hear us and we are starting to succeed a lot," Tkachenko said in his greeting.
At the same time, the minister added, there are many challenges. This is not only the coronavirus pandemic, but also the transformation into an area that can provide significant added value for the country, he said. "Together we will be able to do everything to prove that even during war and struggle, culture is the most important thing," Tkachenko wrote.
op