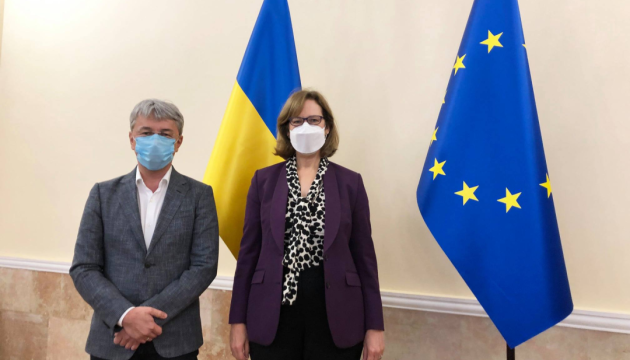 Culture Minister Tkachenko, CDA Kvien discuss cooperation in culture and tourism
Minister of Culture and Information Policy of Ukraine Oleksandr Tkachenko and U.S. Charge d'Affaires a.i. in Ukraine Kristina Kvien discussed the continuation of cooperation between the two countries in the fields of media outlets, culture, creative economy and tourism.
"Oleksandr Tkachenko spoke about the key areas of the ministry's work for the next 3-5 years," the press service of the Ministry of Culture and Information Policy of Ukraine reported.
In particular, Tkachenko told CDA Kvien about the Great Restoration program, the preservation of cultural heritage, the implementation of the law on tourism, cultural interaction with local communities thanks to modern centers of cultural services in the regions, and the development of creative industries through the use of the export potential of folk arts and crafts.
"We have received positive feedback, so we keep moving on," the minister said following the meeting.
ish