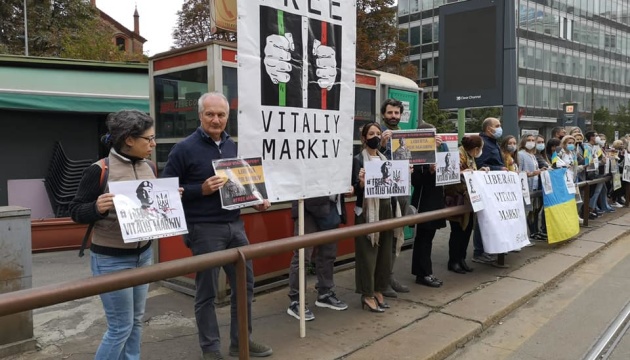 Ukrainians in Italy stage rally in support of Markiv
The Ukrainian community in Italy staged a rally outside the building of the Milan Court of Appeal in support of Ukrainian National Guard serviceman Vitaliy Markiv, who was sentenced to 24 years in prison for his alleged involvement in the death of Italian photojournalist Andrea Rocchelli, according to an Ukrinform correspondent.
Ukrainians from all over Italy are gathering in Milan to support the Ukrainian near the courthouse. This is the third such rally held during the hearing of an appeal against the Markiv verdict. Ukrainians started gathering near the court in Milan at 08:30.
Markiv was detained in Italy in the summer of 2017 on charges of his alleged involvement in the deaths of Rocchelli and his interpreter, Russian Andrei Mironov, near Sloviansk, Donetsk region, in May 2014.
On July 12, 2019, the Pavia court sentenced the Ukrainian to 24 years in prison.
The Ukrainian Interior Ministry said that Markiv had been convicted of a crime he did not commit and added that it expected "only one possible verdict - acquittal" from the Milan Court of Appeal.
A group of journalists decided to conduct their own investigation into the deaths of Rocchelli and Mironov. They produced a documentary called "The Wrong Place." The film was directed by Italian military correspondent Cristiano Tinazzi. Italians Ruben Lagattolla, Danilo Elia and Ukrainian Olga Tokariuk worked with him on the film. Experts, analysts, former servicemen, cartographers and many other specialists were also involved.
op