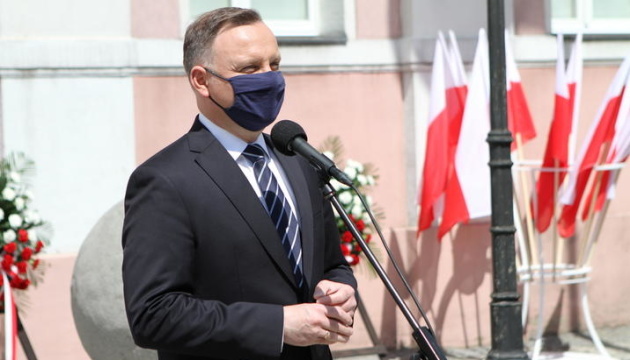 Andrzej Duda commemorates Holodomor victims in Kyiv
President of Poland Andrzej Duda has put a symbolic basket with ears of wheat near the monument to the victims of the Holodomor in Ukraine in 1932-1933.
The ceremony was live streamed on Facebook page of the Chancellery of the President of the Republic of Poland.
October 11, President of Poland Andrzej Duda arrived on a three-day visit to Ukraine.
October 12, Duda will meet with President of Ukraine Volodymyr Zelensky, Speaker of the Verkhovna Rada Dmytro Razumkov and Prime Minister Denys Shmyhal. The talks will focus on bilateral relations, Ukraine's Euro-Atlantic aspirations, as well as security issues in the region, including the situation in eastern Ukraine and Belarus. The historical issues will be discussed as well. In particular, heads of the institutes of national memory of the two countries, Anton Drobovych and Jarosław Szarek, will hold talks in Kyiv.
The Holodomor was the Famine-Genocide in Soviet Ukraine from 1932 to 1933 that killed millions of Ukrainians.
ol