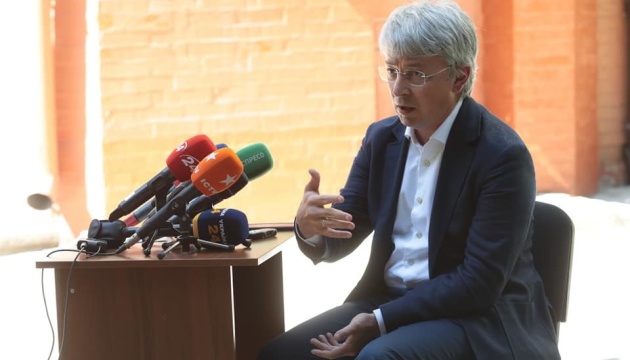 Great Restoration project to be launched in 2021 – Tkachenko
Minister of Culture and Information Policy Oleksandr Tkachenko has said that a Great Restoration project will be launched in Ukraine in 2021.
He said this at a press conference on the occasion of his first 100 days in office on Monday, September 14, an Ukrinform correspondent reports.
"What are we going to do in the future? We are planning to launch the Great Restoration project. Actually, it should start next year. This year, we will respond primarily to emergencies," Tkachenko said.
According to him, the Ministry of Culture and Information Policy also plans to "launch the production of Ukrainian-language TV shows created by Ukrainians about the history of Ukraine."
This year, the Culture Ministry will open centers of cultural services in five regions - Donetsk, Luhansk, Kherson, Chernivtsi and Zakarpattia regions.
As Ukrinform reported, on August 18, President of Ukraine Volodymyr Zelensky signed a decree "On measures to support the cultural sector, protection of cultural heritage, development of creative industries and tourism."
The document is aimed at promoting the development of Ukraine's cultural potential, preserving, promoting and the effective use of the national cultural heritage, creating conditions for the tourist attractiveness of cultural heritage sites and supporting the creative economy.
ish