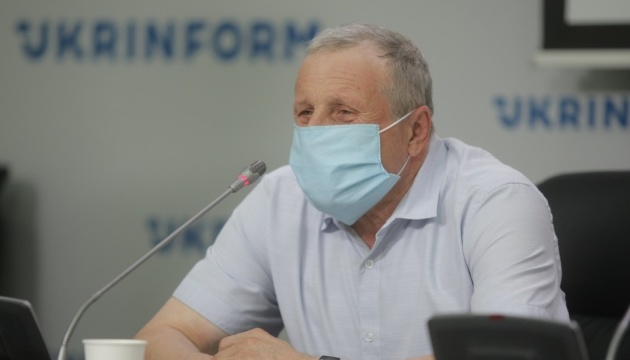 Mykola Semena: Network of Ukrainian journalists was destroyed after occupation of Crimea
After Russia occupied Crimea, a network of Ukrainian media outlets was destroyed on the peninsula. However, citizen journalists now continue to tell Ukraine and the world about what is happening in Crimea today.
"The network of Ukrainian journalists was destroyed, we were replaced by citizen journalists who livestreamed from all events, searches, and rallies and who consequently suffered even more than professional journalists. I think it will be still impossible to completely stop the flow of information from Crimea to Ukrainian media as those citizen journalists, who have been arrested and convicted, are replaced by new people who are not afraid of being repressed. And the information is still coming," Radio Liberty journalist Mykola Semena said at the press conference "Lack of freedom of speech in the temporarily occupied territories of Ukraine" at the Ukrinform news agency.
According to him, now professional and citizen journalists share the common cause that "Ukraine and the world knows that repressions and persecution of freedom of speech are taking place in Crimea."
As Semena noted, 1,500 media outlets were registered in Crimea before the occupation, and only 150 of them left after 2014.
"That is, the number of sources of information in Crimea has decreased tenfold," the journalist said.
He said that when the Radio Liberty's office opened in Simferopol in March 2014, a camera appeared over the door of the office a few days later, registering all visitors.
"Over time, we were forced to abandon this office, opened it in another place, but even there we felt that we were being spied on. After that, we began to work remotely. But when the cyber troops were disbanded in Crimea, we understood that sooner or later we all would be tracked and sooner or later they would come to us. I personally managed to hold out for another two years," Semena said.
A criminal case was opened against the journalist.
"And this happened despite the fact that Ukrainian and Russian journalists in Crimea had equal rights, Russian newspapers were sold and Russian TV channels were broadcasted without any restrictions until 2014," he said.
After 2014, Semena noted, any opportunities to transfer information from Crimea to Kyiv were blocked, "as we had no experience and possibility of covert work, and this was not our goal because a journalist should work openly."
In addition, the journalist said, the "authorities" of Crimea banned residents from giving any information to Ukrainian journalists.
Mykola Semena is an honored journalist of Ukraine, against whom a criminal case was opened in the occupied Crimea over alleged public appeals to violate Russia's territorial integrity. The reason given was his publication about the civil blockade of the peninsula published on Crimea.Realities website.
On September 22, 2017, Semena was convicted in annexed Crimea for his journalistic activities, received a 2.5-year suspended sentence and was banned from engaging in journalistic activities for three years.
On January 28, 2020, Mykola Semena received documents from a district court in Simferopol confirming that his suspended sentence had been lifted and his criminal record expunged.
On February 18, 2020, he left Crimea and arrived in Kyiv on February 19.
ol