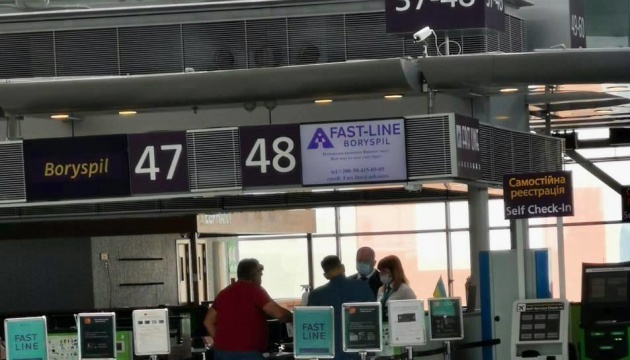 Passengers can take coronavirus test at three Ukrainian airports - UkSATSE
Passengers can take a coronavirus test at the Lviv, Boryspil and Kharkiv international airports in Ukraine for UAH 1,500 (about $50), the Ukrainian State Air Traffic Services Enterprise (UkSATSE) has reported on Facebook.
"Those who come to Ukraine from 'red zone' countries can stop self-isolation after they receive a negative PCR test. It has recently become possible to take the test directly at the airport. The medical procedure, including registration, takes 15 minutes," the report reads.
It also notes that payment for the test can be made only through the laboratory's website.
In addition, UkSATSE reported that on July 17, passengers started taking PCR tests for coronavirus at Boryspil Airport.
"Passengers are tested after arrival and before departure. The results are prepared within a day. After that, an English-language certificate with a result is sent to the e-mail address specified by the passenger. Those who have installed the application 'Dii vdoma' [Act at Home] for control over self-isolation will get a notice on the cancellation of the self-isolation regime," the report reads.
The Ukrainian Health Ministry divides countries into two zones according to the number of active COVID-19 cases per 100,000 population. The "red zone" includes states in which the number of active cases of COVID-19 exceeds 55 per 100,000 population, whereas the "green zone" includes countries in which there are less than 55 active cases per 100,000 population.
The Cabinet of Ministers decided to end the regime of self-isolation or observation for those entering Ukraine from "red zone" countries, provided that they take a PCR test for COVID-19 after crossing the state border and have a negative result. Entry from "green zone" countries is allowed without any restrictions.
To enter Ukraine, foreigners need an insurance policy that covers the costs of COVID-19 and observation.
A so-called "adaptive quarantine" is currently in force in Ukraine until July 31.
op