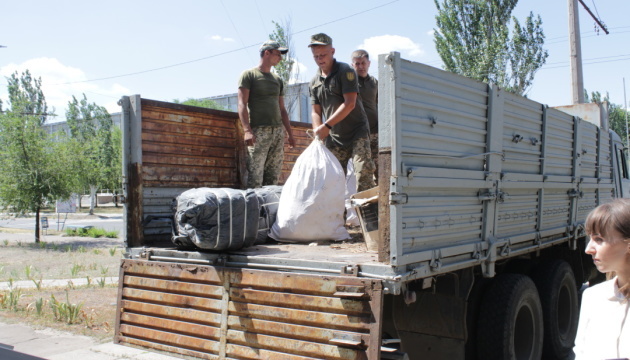 Latvia transfers over five tonnes of aid to blaze-hit Luhansk region
Head of Luhansk Regional State Administration Serhiy Haidai has taken part in the transfer of humanitarian cargo from Latvia to the residents of the wildfire-hit Luhansk region, the administration's press service has reported.
"First of all, I would like to thank our European partners who brought help a few days after the fire started. I was told that we should soon expect another load of humanitarian aid for people affected by the fire. Today, social workers and psychologists will work at the scene," Haidai said.
He also said that the fire was finally contained last night and there were currently five smoldering areas. Rescuers are on duty in these areas. State Emergency Service units are also working to extinguish smoldering areas at a local landfill.
The cargo weighing more than five tonnes was handed over by Oleksandr Pavenko, a candidate for the position of Latvia's honorary consul in the Donetsk region, and delivered by Joint Forces Operation servicemen.
op