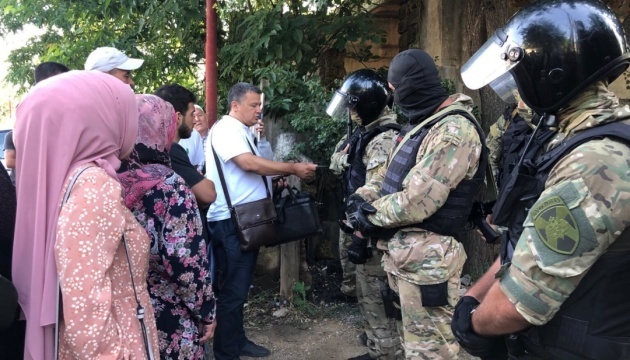 Seven Crimean Tatars detained after searches in occupied Crimea
Russian security forces have detained seven Crimean Muslims as a result of searches that were conducted at 04:00 in Bakhchisaray, Krasnogvardiyske, Simferopol districts and in Alushta town in the occupied Crimea.
"Emil Ziyadinov (Zhovtneve urban-type settlement), Ismet Ibragimov (Kurtsy village, Simferopol district), Dyliaver Memetov (Alushta town), Alim Sufyanov (Zaliznychne village, Bakhchisaray district), Seyran Khayretdinov (Bilokamyanka village, Bakhchisaray district), Oleksandr Syzykov (Sevastyanivka village, Bakhchisaray district), Vadym Bektemirov (Kamyanka village) were detained," Crimean Solidarity activist Lutfie Zudieva informed in a comment to a post on Facebook.
Lawyer Isliam Veliliayev, who arrived at the scene of search in Zhovtneve, told Crimean Solidarity that he was not allowed to meet his client Emil Ziyadinov.
"Today is July 7, 2020, 06:50. I am in Zhovtneve. I have arrived here because [the house of] our compatriot Emil Ziyadinov is being searched. The search began at 04:00, FSB officers broke into the house where Emil Ziyadinov, his wife, four minor children and elderly parents were. When I demanded to be present during the search, the FSB officers replied that we had to wait. That is, the right to defense was violated, I was not allowed to stay near my client during the search," the lawyer said.
As reported, Russian security officers raided seven houses of Crimean Muslims in four regions of Crimea this morning.
ol