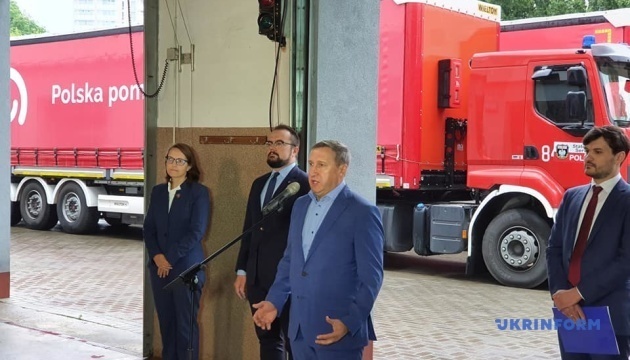 Poland sends Ukraine humanitarian assistance to combat COVID-19
Poland has sent Ukraine humanitarian aid to fight coronavirus. Twelve trucks of the Polish Border Guard Service with personal protective equipment will arrive in Ukraine today.
Representatives of the Government of Poland and Polish organizations, Ambassador of Ukraine to Poland Andriy Deshchytsia took part in the official ceremony of sending humanitarian convoy to Ukraine and Moldova in Warsaw on June 24, an Ukrinform correspondent reports.
"We help today, and tomorrow we may need help. The Government of Poland provides humanitarian assistance in the form of personal protective equipment - masks, gloves, overalls, disinfectants - to institutions fighting COVID-19 in Ukraine and Moldova. Twelve trucks of the Fire Service will deliver this aid to Ukraine, four - to Moldova," Head of the National Revenue Administration Magdalena Rzeczkowska said.
Paweł Jabłoński, Deputy Foreign Minister of the Republic of Poland, noted that the assistance was sent to Poland's closest friends - Ukraine and Moldova, with whom Poland works closely within the framework of the Eastern Partnership project.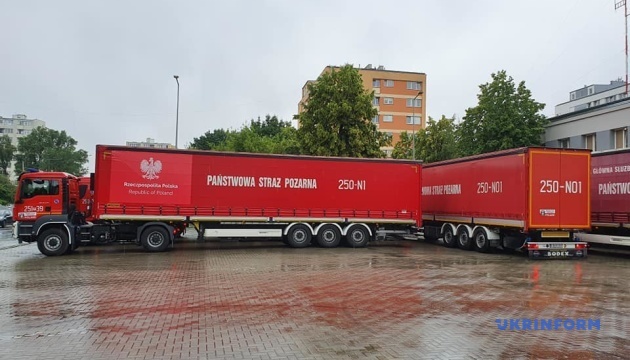 Ambassador of Ukraine to Poland Andriy Deshchytsia stressed that the provision of this assistance was one of the most significant events showing Warsaw's openness to countries in need under current conditions.
"Polish solidarity is known all over the world, in Ukraine as well. It has been known in our country since the Orange Revolution and Euromaidan, when Poles supported Ukrainians in their aspirations to get closer to the EU, to carry out reforms," Deshchytsia stressed.
The Polish humanitarian cargo for Ukraine includes almost 130 thousand liters of disinfectants, about 19 thousand protective face screens of various types, 50 thousand gloves, 40 thousand masks, 1 thousand protective overalls.
ol