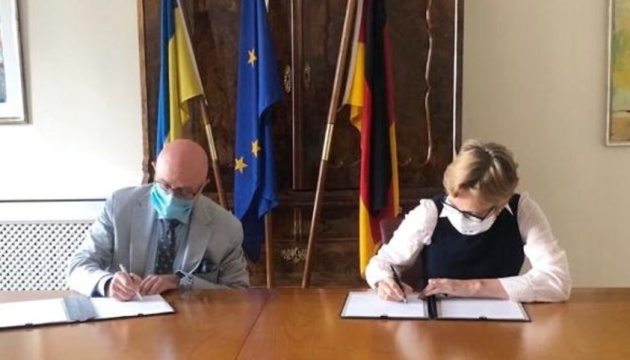 Germany to give Ukraine EUR 25.5 mln for housing for IDPs
Germany is providing a EUR 25.5 million grant to Ukraine to create housing for internally displaced persons.
German Ambassador to Ukraine Anka Feldhusen and Ukraine's Deputy Prime Minister Oleksiy Reznikov signed a respective agreement on June 3, the German Embassy in Ukraine reported.
"Ambassador Feldhusen and Deputy Prime Minister of Ukraine Oleksiy Reznikov have signed an agreement on financial cooperation. With this agreement, the German federal government is providing a grant totaling 25.5 million euros to Ukraine to create housing for internally displaced persons," the report said.
The aim of the project carried out by KfW, a German state-owned development bank, is to refinance a subsidized state loan program for the purchase of residential property. Depending on the actual loan volume, around 1,200 loans can be refinanced with the grant.
"Up to 5,000 IDPs will benefit from this project, which improves their living conditions and their social integration into the host communities. While the normal market interest rate on available loans can reach up to 25% per annum, households, who have the right to do so, can receive loans under the state loan program at about 3% per annum. However, the living space of apartments that are financed may not exceed the limit set by the state loan program," the report reads.
According to the embassy, although a significant number of internally displaced persons in Ukraine already work and receive payment for it, most of them still do not have housing that would meet their needs.
The Cabinet of Ministers of Ukraine on April 22 approved a respective agreement with the German government on cooperation as part of the project "Housing for internally displaced persons."
As of April 13, the number of registered internally displaced persons in Ukraine exceeded over 1.4 million people, including 367,849 people of working age, 197,672 children, 51,355 people with disabilities, 724,427 retirees.
op