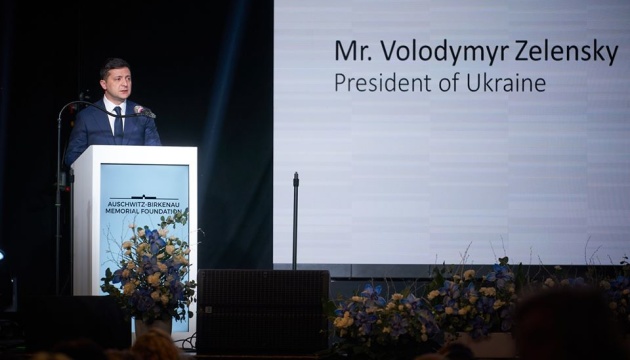 Zelensky meets with former prisoners of Auschwitz-Birkenau concentration camp in Poland
Ukrainian President Volodymyr Zelensky met on January 26 with former prisoners of the Auschwitz-Birkenau Nazi concentration camp during his working visit to Poland, according to a statement posted on the website of the head of state.
"On the first day of his working visit to the Republic of Poland, President of Ukraine Volodymyr Zelensky participated in a dinner marking the 75th anniversary of the liberation of the Auschwitz-Birkenau Nazi concentration camp. The event was attended by former prisoners of the camp and their families," the statement reads.
In his speech, the head of state emphasized that it was an honor and responsibility for him to meet with those who had survived the Holocaust and concentration camp.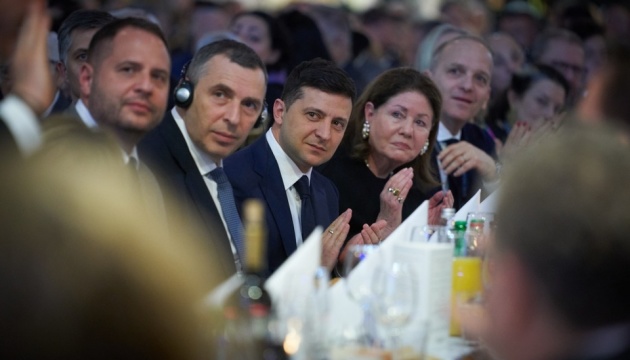 He noted that the memoirs of Auschwitz prisoners, many of which are published in books, are very difficult to read because it is impossible to hold back tears.
"You are incredible people! Very strong and very brave. You inspire to never give up. The Holocaust is called the darkest period in human history. And you are the rays of the sun that overcame the darkness," Zelensky said, addressing the former prisoners.
Zelensky said that the international community should unite and prevent any manifestation of anti-Semitism, xenophobia and racism.
The head of state also stressed that the Holocaust was a terrible tragedy for the Jewish people and a tragic lesson for mankind. He called for this page of history to be remembered and never to be repeated.
Zelensky also noted the Righteous Among the Nations - those who were not indifferent and risked their own lives to save Jews.
"I am proud that more than two and a half thousand Ukrainians have been honored with this high title," he said.
Zelensky started a two-day working visit to Poland on Sunday, January 26.
op