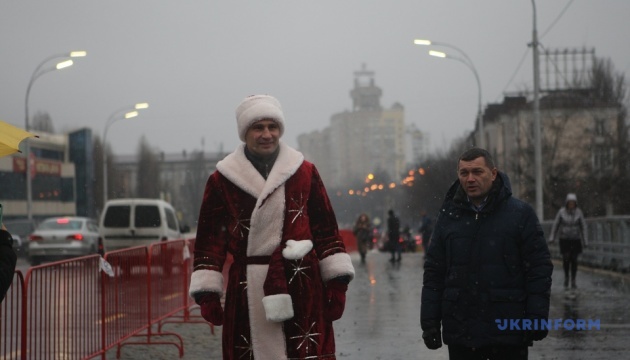 Kyiv mayor dressed as Santa Claus opens Shuliavsky overpass
Kyiv Mayor Vitali Klitschko dressed as a Santa Claus has opened traffic on the renovated Shuliavsky overpass in Kyiv, according to an Ukrinform correspondent.
"This bridge is already a modern bridge that will be operated for many years and will reduce the traffic load in our city. It is very good that we were able to open traffic as we promised - by the end of the year. Many people doubted, many people were skeptical but I can say that we fulfill all the tasks that we undertake. The next step is that we also plan to open traffic between the left and right banks [of the Dnipro River] on the Podilsko-Voskresensky Bridge by the end of next year. It will also be a gift for residents of Kyiv next year," Klitschko said.
The Shuliavsky overpass was closed for long-term reconstruction on March 17.
op