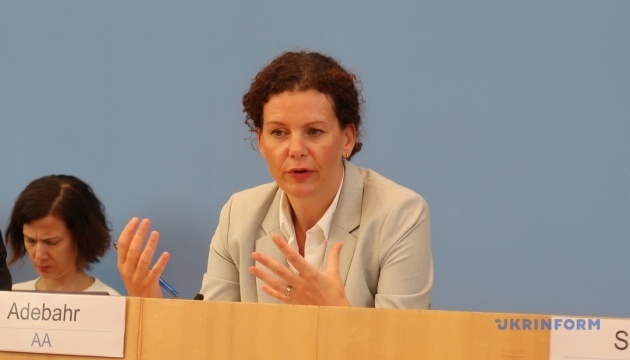 Berlin sees new charges against Russia in MH17 case as serious
Berlin has taken note of the new findings of the Joint Investigation Team (JIT) on Russia's involvement in the shooting down of flight MH17 and regards them as very serious, but does not comment on them, German Federal Foreign Office spokesperson Maria Adebahr has said.
She said this at a briefing in Berlin on November 15, according to an Ukrinform correspondent.
"From our point of view, the new accusations against Russia are very serious," she said.
The diplomat stressed that Russia must cooperate constructively with the JIT to investigate the crime.
On November 14, the JIT released conversations of "DPR" leaders with Russian officials, which prove that orders, including those on the daily management of "DPR," administrative, financial and military affairs, came from Moscow. Investigators also found that the means of special communication used by the leaders of Russian-backed forces were most likely provided by Russia. The JIT stressed that "DPR" leaders maintained close contact with the Russian authorities on military support.
Malaysia Airlines flight MH17, which was en route from Amsterdam to Kuala Lumpur, was shot down over Donbas in July 2014. There were 283 passengers and 15 crewmembers on board the plane. All of them died.
The JIT said on May 24 that the Buk missile system from which the aircraft was downed belongs to the 53rd Anti-Aircraft Missile Brigade of the Russian Armed Forces stationed in Kursk.
In May 2018, the Netherlands and Australia officially stated that they hold the Russian state legally responsible for the downing of MH17.
op