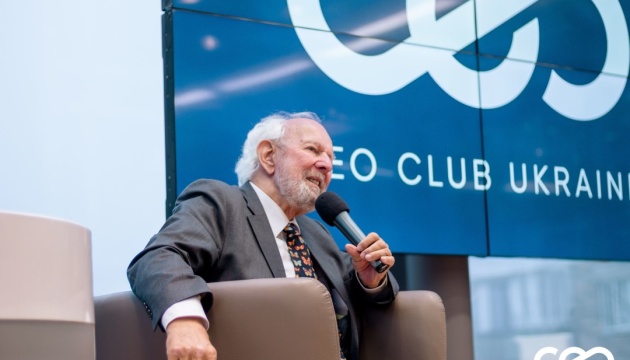 Ernst von Weizsacker: There should be civilization of new people where freedom is valued
Last weekend, CEO Club Ukraine, in partnership with the Ukrainian Association for the Club of Rome and the Business 100 project, organized a meeting with Co-President of the Club of Rome Ernst Ulrich von Weizsacker.
"There are events, people you are looking forward to seeing. It is like an invisible limit after which you will no longer be the one you were before. They are able to change you, your values, give you an opportunity to understand more deeply the world in which you live, who we are, where we are going, and what is going to happen in the future," founder and president of CEO Club Ukraine Sergey Gaydaychuk said.
According to him, CEO Club Ukraine is especially sensitive to such values. "CEO Club Ukraine is our territory of trust, an ecosystem in which we try to produce new ideas for the country, for the world. We have teamed up to carry out particularly significant projects, and we believe that with the birth of such territories of trust, in fact, a new country must emerge," he said.
The Club of Rome is also an association, a territory of trust of the world's 100 intellectuals from more than 30 countries who see themselves as defenders of democracy, long-term thinking, the environment and future generations who do not currently have a voice in the capitalist debate. The club's mission is to identify contemporary challenges for humanity, to engage the world community in tackling such challenges and to offer long-term solutions based on careful scientific analysis.
The insights of the report "The Limits to Growth," published 30 years ago, with a circulation of 12 million copies, were so true that they shocked the world's elites. All of the trends that were then emerging have now become threatening. However, humanity has not yet realized that it has entered a crisis that can lead to the death of civilization.
The report "Come On!" dedicated to the 50th anniversary of the Club of Rome is a unique phenomenon and, without exaggeration, the main document of our time. It offers not only a detailed analysis of what mankind has done but also a clear plan for correcting mistakes so that our planet can continue to exist.
Here are a few remarks from Professor Ernst Ulrich von Weizsacker's report:
- The visual figure that illustrates the era of human domination is the calculation of the total body mass of human beings and farm animals: it is 97% of the body mass of all vertebrates on Earth! That is, elephants, kangaroos, bats, rats, birds, reptiles and amphibians together weigh no more than 3%!
- The year 2018 was the first year when there were serious climate changes around the world - from Australia to Sweden, everywhere. In June 2019, 25 million people in India did not have access to clean drinking water. They brought it from the Himalayas. Floods in Africa, the Bahamas, Australia. Wildfires in America, Canada, Siberia, even Alaska. There were 28 massive wildfires in Sweden in 2018.
- However, the main threat is not even the fires, but coastal flooding. The sea-level rise can come very fast. Can you imagine that?
- The so-called modern agricultural farming methods that use chemistry are the worst enemy of biodiversity that prevails in nature and is a very big enemy for the climate. Emissions of methane, nitrogen, soil destruction lead to the destruction of entire populations of birds, insects.
- Ukraine is a wonderful country for agriculture. If you only change your approach to organic farming, and these technologies already exist, then you will leave room for entire ecosystem chains. This is a great idea for a startup.
- My favorite green tax proposal: Increase taxes on CO2 emissions and the development of resources annually, and this scheme will make the green economy and technologies profitable.
- We need to understand what priorities we have, why we live and what we want from this life. A civilization of new people should be the one where freedom is valued, but it will certainly not be the freedom to be a billionaire at the expense of everyone else.
- Modern economists are told that the more competition, the better for the world. No. This is not quite true. Too much competition will destroy the world.
- A new paradigm will be more complicated. And it may take over a hundred years to develop it.
op