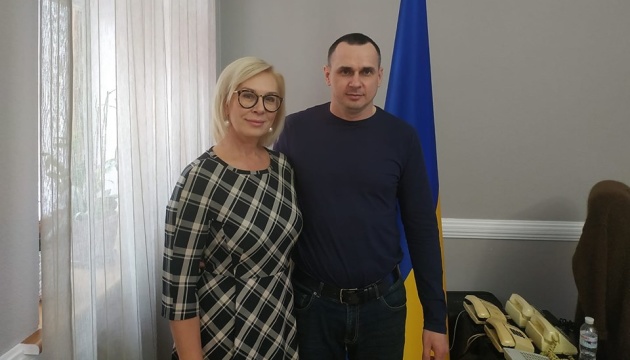 Denisova meets with Sentsov
Verkhovna Rada Commissioner for Human Rights Liudmyla Denisova has held a meeting with Oleg Sentsov.
In a post on her Facebook page, she wrote: "Today I've met with Oleg Sentsov. Oleg told about his civic activities aimed at attracting international attention to military activities in the East, the issue of Crimea and returning Ukrainian prisoners back home".
Denisova noted that they also agreed with Sentsov to plan his future official visits, in particular, trips to Paris.
"We have outlined a roadmap for joint action on the coverage on the international sites of current information about all Ukrainian citizens imprisoned in the Russian Federation and temporarily occupied territory of Crimea so that they can return home as soon as possible," she added.
Film director Oleg Sentsov was detained by Russian security services in Crimea in May 2014 on charges of organizing terrorist attacks on the occupied peninsula.
On January 17, 2016, the Czech Film and Television Union (FITES) awarded Sentsov a special jury prize.
On April 26, 2017, the Ukrainian director was given in absentia the PEN/Barbara Goldsmith Freedom to Write Award.
On October 25, 2018, the European Parliament named Sentsov a Sakharov Prize winner.
On September 7, 2019, Ukraine and Russia exchanged detainees in the "35 for 35" format. Eleven Ukrainian political prisoners, including Sentsov, as well as 24 seamen captured by Russia in the Kerch Strait in November 2018, returned home.
iy