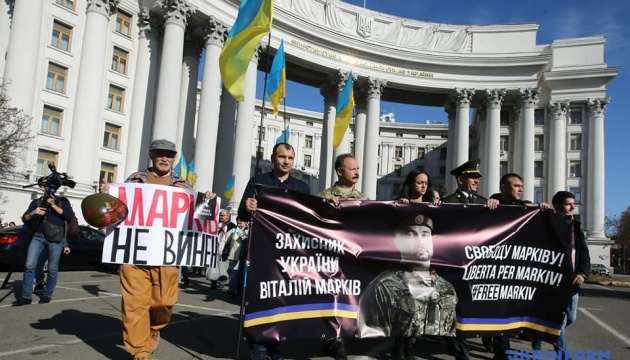 Rally in support of convicted National Guard member Markiv held in Kyiv
A march in support of Vitaliy Markiv, a serviceman of the National Guard of Ukraine who was sentenced in Italy to 24 years in prison, is being held near the Ministry of Foreign Affairs of Ukraine in Kyiv.
As an Ukrinform correspondent reports, several dozen activists, including Markiv's wife and former Kremlin's prisoner Oleg Sentsov, take part in the rally.
The protesters came to the Ministry of Foreign Affairs to ask about the progress in the "Markiv case" and demand that the process of his release is stepped up. Later, the protesters will go to picket the Embassy of Italy in Ukraine.
The rally participants hold the posters reading "Italy, hear Ua", "Freedom to Markiv", "Markiv is not guilty."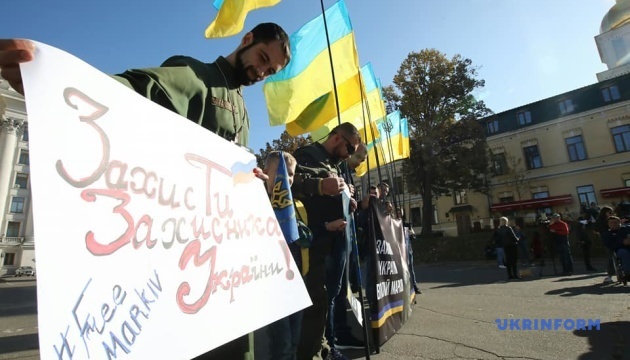 As reported, a sentence was passed on Ukrainian National Guard Vitaliy Markiv by a court in the Italian town of Pavia. The sentence reads that the jury decided to convict Markiv "for physical assistance and active participation in the murder of Italian photographer and his Russian interpreter."
Having sentenced the Ukrainian serviceman to 24 years in prison, the jury did not take into account any mitigating circumstances, as requested by a prosecutor that asked to sentence Markiv to 17 years in prison. The jury increased the sentence by additional seven years as the soldier did not admit his guilt and responsibility of his brother-in-arms and Ukraine for the "crime committed during the war."
The lawyers of Markiv are going to appeal against the ruling.
President of Ukraine Volodymyr Zelensky instructed the Ministry of Foreign Affairs of Ukraine and the Prosecutor General's Office of Ukraine to urgently solve the issue of returning Markiv to the homeland. Subsequently, in a telephone conversation with Italian Prime Minister Giuseppe Conte, Zelensky expressed concern about the unreasonably harsh court ruling.
ol