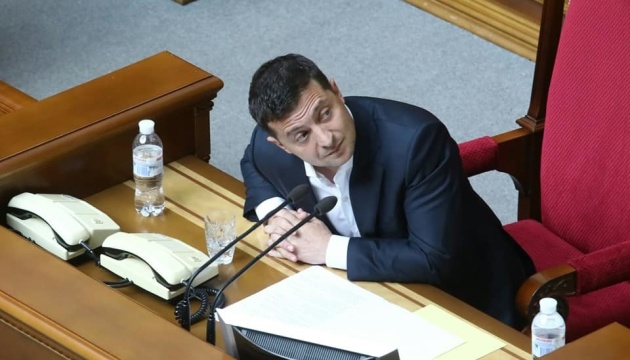 Over 70% of Ukrainians satisfied with Zelensky's work
Seventy-one percent of Ukrainians are satisfied with the activities of President Volodymyr Zelensky, 29% praised the work of Prime Minister Oleksiy Honcharuk, and 39% are satisfied with the work of the newly elected Verkhovna Rada, according to a poll conducted by the Rating Sociological Group on September 6-10, 2019.
"71% of those polled are satisfied with the activities of Ukrainian President Volodymyr Zelensky, 11% are of the opposite opinion, and 18% could not form their attitude to this. Compared to July this year, the level of satisfaction with the work of the president has grown by almost one-and-a-half times," the group said in a press release on Thursday, September 12.
At the same time, 29% of respondents positively evaluated the work of the head of the government, Oleksiy Honcharuk, and 11% assessed it negatively. Two-thirds of those polled could not rate the new prime minister.
Some 39% of respondents said they were satisfied with the work of the newly elected Verkhovna Rada, 16% were dissatisfied, and 45% could not answer.
The vast majority of respondents (over 90%) support initiatives regarding the early termination of the powers of people's deputies for piano voting and truancy, a reduction in the number of MPs from 450 to 300, and the cancellation of parliamentary immunity.
According to the report, more than 70% support the provision of the legislative initiative to Ukrainian citizens, expanding the president's powers to appoint the heads of the National Anti-Corruption Bureau and the Specialized Anti-Corruption Prosecutor's Office, as well as increasing the number of human rights ombudsmen (ombudsmen). About two-thirds of respondents are in favor of securing in the Constitution of Ukraine the clauses about the election of people's deputies according to a proportional election system and the cancellation of the lawyer's monopoly.
A total of 2,500 respondents aged over 18 years were interviewed. The poll's margin of error does not exceed 2%.
op