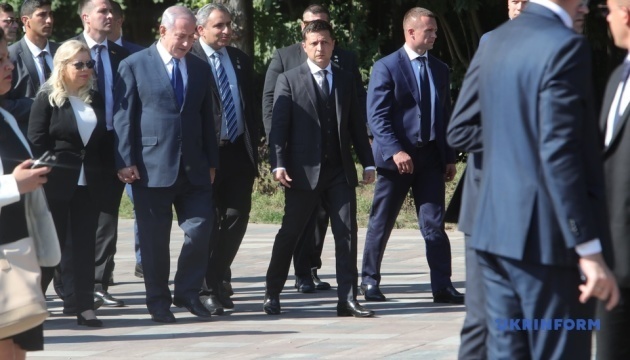 Zelensky and Netanyahu commemorate victims of Babyn Yar tragedy. Photos
President of Ukraine Volodymyr Zelensky and Prime Minister of the State of Israel Benjamin Netanyahu commemorated the victims of the Babyn Yar massacre and the Holocaust.
"Ukrainian people will always remember those crimes against humanity. We will never forget the consequences of xenophobia and racism... The remembrance of the victims should serve as a warning that the ideology of intolerance and violence deprives of the most precious and most valuable thing: a human life. Today, here in the Babyn Yar, we urge the international community to join forces to prevent any manifestations of anti-Semitism and intolerance on the grounds of race or national origin," Zelensky said during the mourning ceremony, an Ukrinform correspondent reported
Ukraine demonstrates unity with the entire world and safeguards humanism, tolerance, freedom and democracy, the president added.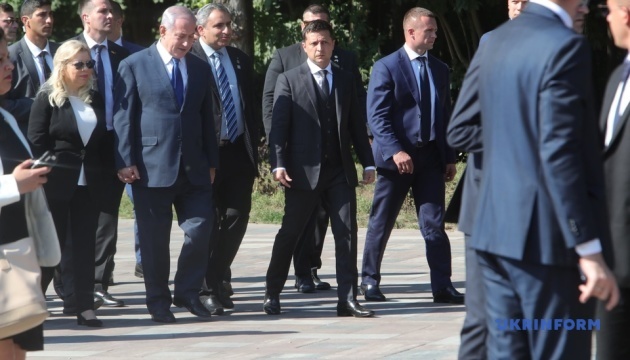 The Prime Minister of Israel, in turn, thanked the President and the Government of Ukraine for preserving the memory of the Babyn Yar tragedy and the Holocaust victims.
"You really make a significant contribution to the fight against anti-Semitism... Ukraine and Israel stand together. Together we remember the tragedies that have already happened and together we predict a good future. We ask you to continue to honor the memory of those killed in Baby Yar and remember this tragedy so that it never happens again," Netanyahu emphasized.
оl