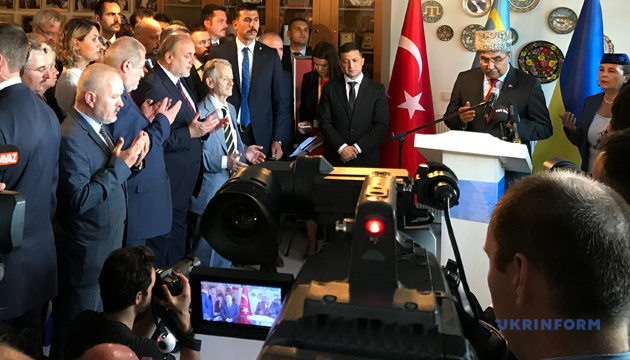 President meets with Ukrainian and Crimean Tatar communities of Turkey
During an official visit to Turkey, President of Ukraine Volodymyr Zelensky held a meeting with representatives of Ukrainian and Crimean Tatar communities and took part in the opening of a new office of the Crimean Tatar diaspora, the president's press service has reported.
"It is a great pleasure to meet you here in a new hospitable house of the Crimean Tatar community. It is of particular symbolism that we have convened here as one big family. I am glad that the Ukrainian and Crimean Tatar communities have close cooperation," the head of state said at the beginning of the meeting on Wednesday, August 7.
Zelensky thanked the communities for their solidarity with Ukraine and practical assistance to our country in times of challenges, as well as for their tangible contribution to the establishment of strategic partnership relations between Ukraine and Turkey.
He also noted the activity of Ukrainian communities in various cities of Turkey and one of the greatest recent achievements - interpersonal relations.
The president stresses that despite the fact that hospitable Turkish land became a new home for the attendees, everyone is welcome in Ukraine. He urged to join the development of the Homeland.
"Each of you is important for Ukraine. Your experience, your knowledge, your capabilities. My team has set itself very ambitious goals: we want to build a country where our people will gladly return from abroad. And I would like you to be actively involved in creating this new Ukraine - we need your help," he said.
ish