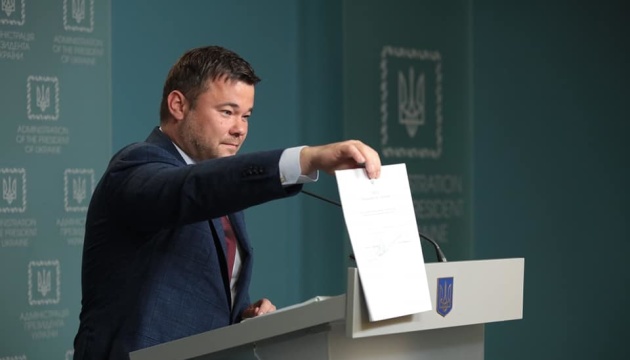 Ukrainian president to attend March of Dignity on Independence Day
Ukrainian President Volodymyr Zelensky will participate in a March of Dignity on Ukraine's Independence Day in Kyiv on August 24, Head of the Presidential Office Andriy Bohdan has said.
"A March of Dignity will be held in Kyiv to mark Ukraine's Independence Day. The March of Dignity will take place on the central street of the capital instead of a traditional Soviet-style parade with an expensive demonstration of military equipment," Bohdan said at a briefing on Tuesday, July 30.
According to him, it is planned that representatives of different branches of troops are to march along Khreshchatyk Street and veterans of the anti-terrorist operation in Donbas will be able to join in members of their brigades. Doctors, teachers, diplomats and volunteers will also participate in the event, Bohdan said.
He also said that Zelensky and the leadership of the state would take part in the March of Dignity. After that, the head of state will address the Ukrainian people.
A grand concert being organized by a well-known Ukrainian director will also be held in the center of Kyiv, Bohdan said.
"The event will be modern in ideological and technical aspects," he said.
Zelensky earlier released a video address in which he announced the decision to cancel a military parade on Independence Day on August 24 and transfer the saved money in the amount of UAH 300 million to the military.
op