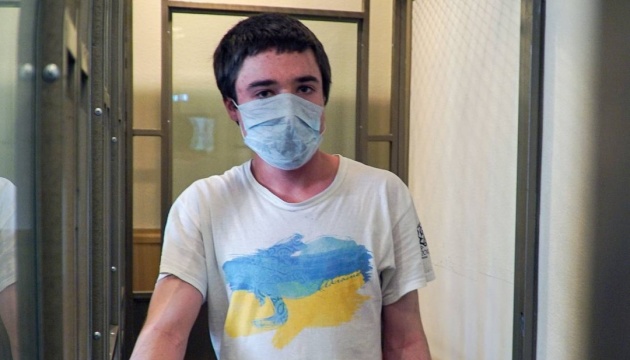 EU demands Russia immediately free Hryb, other Ukrainian political prisoners
The European Union has demanded that Russia immediately release illegally convicted Ukrainian Pavlo Hryb, as well as all other Ukrainian political prisoners, including 24 sailors captured near the Kerch Strait last November.
"On 23 July, the Supreme Court of the Russian Federation upheld a decision by the Russian court sentencing to six years imprisonment Pavlo Hryb, a 21-year old disabled Ukrainian citizen who was abducted from Belarus by the Russian authorities in August 2017. Since then he has been illegally detained in Russia without any substantiated charges. The European Union reiterates its expectation that Pavlo Hryb be released immediately," reads a statement by the EU spokesperson on the decision of Russia's Supreme Court to uphold the sentencing of Pavlo Hryb.
The statement recalls that Hryb suffers from a very serious medical condition which could become life-threatening at any moment. However, in violation of the ruling of the European Court of Human Rights, Ukrainian doctors have not been allowed to see him. The EU expects him to be provided urgent access to a special medical treatment without delay.
"All illegally detained Ukrainian citizens in the Crimean peninsula and in Russia, including the crew of the vessels captured by Russia on 25 November, must be immediately released. International human rights observers must be granted full, free and unhindered access to the Crimean peninsula," the statement said.
Photo: Oleksandr Kokhan/Hromadske