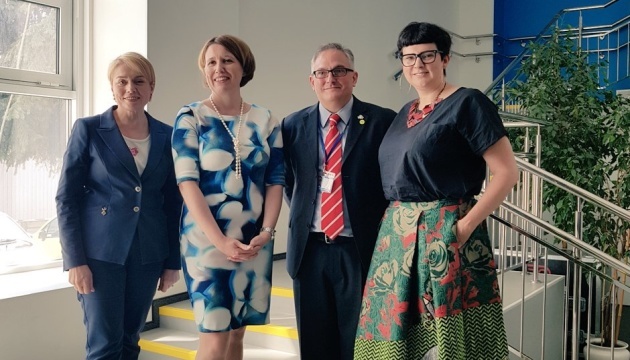 British ambassador, Ukrainian education minister open new British Council office
British Ambassador to Ukraine Ms. Judith Gough and Ukrainian Minister of Education and Science Lilia Hrynevych opened a new office of the British Council in Kyiv, the UK Embassy in Ukraine has reported.
"British Ambassador Judith Gough has opened the new office of the British Council, alongside Ukrainian Education Minister Liliya Hrynevych, Director Simon Williams and Member of the Board of Trustees Clare Reddington," the embassy posted on Twitter.
The British Council has been working in Ukraine since 1992, trained over 5,000 English teachers, partnered with over 200 universities, supported 4,000 local artists and cultural entrepreneurs, and trained over 50,000 Ukrainian youths as part of Active Citizens programme.
The British Council is the UK's international organisation for cultural relations and educational opportunities, building lasting relationships between the UK and other countries.
In Ukraine, the British Council cooperates with the Ministry of Education and Science in improving the teaching of English at all levels of education.
ish