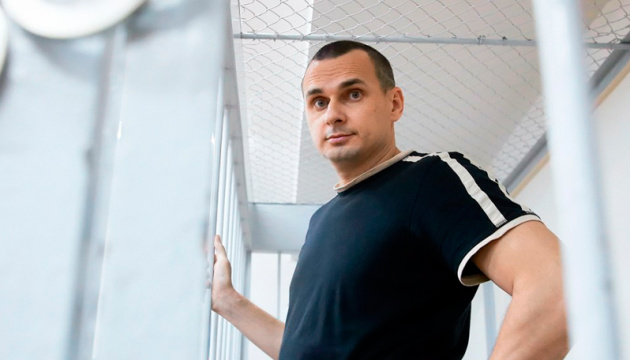 Political prisoner Oleg Sentsov marks his 43d birthday
Ukrainian director Oleg Sentsov, sentenced to 20 years in a Russian prison, turns 43 on July 13. This is his sixth birthday behind the bars.
Oleg Sentsov is a Ukrainian film director, screenwriter, most famous for the film Gamer (2012). The film participated in the International Film Festival Rotterdam, in the competitive program of the IFF "Go East", Germany, Wiesbaden, and was also shown at the Kyiv IFF Molodist and the Minsk International Listapad Film Festival. Sentsov failed to make his second film The Rhinoceros as the Revolution of Dignity started in Ukraine. The director was an active participant in the AutoMaidan movement.
Sentsov returned to his native Simferopol at the end of February 2014 and immediately joined the activists who supported the movement For a United Ukraine. On May 11, 2014, Oleg Sentsov was detained in Crimea by the officers of the Federal Security Service of the Russian Federation. Later he was transferred to Moscow's Lefortovo remand prison. The filmmaker was accused of terrorism and illegal possession of weapons. He was called the organizer of a sabotage and terrorist group. The representatives of the Ukrainian film community, the Government of Ukraine, the European Film Academy and world-renowned film directors, including Pedro Almodovar, Wim Wenders, Mike Leigh, Krzysztof Zanussi, Andrzej Wajda, Ken Loach, called on the Russian authorities to release Sentsov. However, their efforts were in vain.
In August 2015, Sentsov was sentenced to 20 years in a high-security prison. In February 2016, he was transferred to Yakutia. Since November 2017, Oleg Sentsov has been serving his sentence in the Polar Bear penal colony in the town of Labytnangi (Yamal-Nenets Autonomous District of the Russian Federation).
On January 17, 2016, the Czech Film and Television Union (FITES) awarded Sentsov a special jury prize. On April 26, 2017, the Ukrainian director was given in absentia the PEN/Barbara Goldsmith Freedom to Write Award.
In May 2018, Oleg went on an indefinite hunger strike demanding to release all Ukrainian political prisoners. At that time, the Kremlin illegally held over 70 Ukrainians behind the bars. Sentsov was on hunger strike for 145 days, refusing to ask for pardon. He stopped the hunger strike to avoid forced feeding.
Currently, the Ukrainian authorities and the world community are doing everything possible to return the Ukrainian filmmaker to his homeland.
ol