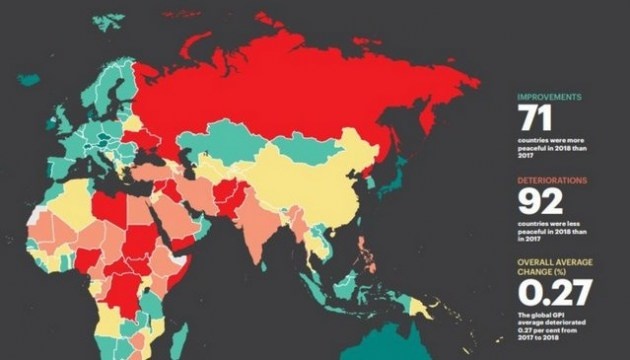 Ukraine climbs two spots in Global Peace Index
Australia's Institute for Economics and Peace (IEP) has released the annual Global Peace Index 2019, in which Ukraine climbed two spots, to 150th position.
According to the rating, the situation in Ukraine, Syria and Iraq stabilized last year, Germany's international broadcaster Deutsche Welle reports.
The report notes that despite outbreaks of brutality and conflict, the world is becoming a little more peaceful since 2013.
GPI founder Steve Killelea, an Australian technology entrepreneur and philanthropist, noted that currently there is no way to talk about any trends. Much depends on how the situation in the Middle East, especially in Iran, will develop, because the conflict there can significantly affect the countries of the region.
At the same time, according to IEP experts, the situation in Ukraine, Syria and Iraq stabilized last year. For the first time in many years, Syria is no longer the least peaceful country in the world. Now the last country in the ranking is Afghanistan. Figures of peacefulness also worsened in Nicaragua, Turkey and Yemen. Ukraine climbed two positions in the rating and occupies 150th spot.
Europe remains the most peaceful region of the world. According to the report, the number of terrorist attacks there has decreased over the past year. The number of people seeking asylum in Europe has also decreased. The researchers also estimated the cost of violence and conflicts in the world in monetary terms - $14.1 trillion. Iceland took first place in the Global Peace Index.
Researchers evaluate the situation in more than 160 countries every year. The factors taken into account by researchers, in addition to the direct presence of internal or external conflicts, wars and manifestations of terrorism, also include the import and export of weapons, the presence of nuclear weapons, the number of murders, the number of prisoners, the number of internally displaced persons, defense spending, and other factors.
op