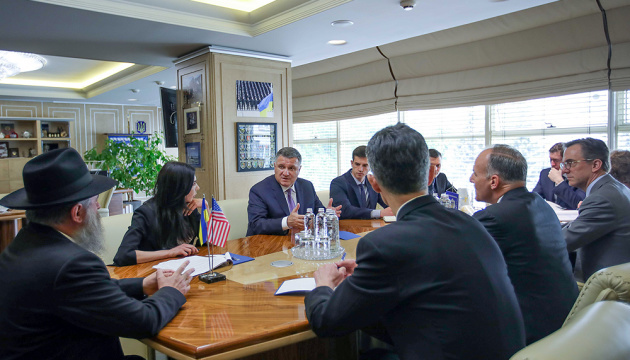 Any manifestations of anti-Semitism are provocation against Ukraine – Avakov
Any manifestations of intolerance and anti-Semitism should be considered as deliberate provocation against the unity of Ukraine.
Ukrainian Interior Minister Arsen Avakov stated this during a meeting with U.S. Special Envoy to Monitor and Combat Anti-Semitism Elan Carr on May 7, the press service of the Interior Ministry reported.
"The preservation of interreligious consensus and interethnic concord in Ukrainian society remains a priority for the Interior Ministry. Any manifestations of intolerance, racism, anti-Semitism, national and religious hatred in the current difficult times for Ukraine should be viewed as deliberate hostile provocation against the civilized civil society, national consolidation and unity of our state," Avakov said.
He assured that the National Police would react decisively to any attempts to undermine interethnic peace and public confidence so that every citizen of Ukraine was protected.
"Last year, there was not a single attack on the grounds of anti-Semitism in Ukraine," Avakov added.
In turn, Elan Carr noted the activities of the Interior Ministry in overcoming manifestations of anti-Semitism in Ukraine and assured of support from the United States Department of State.
ish