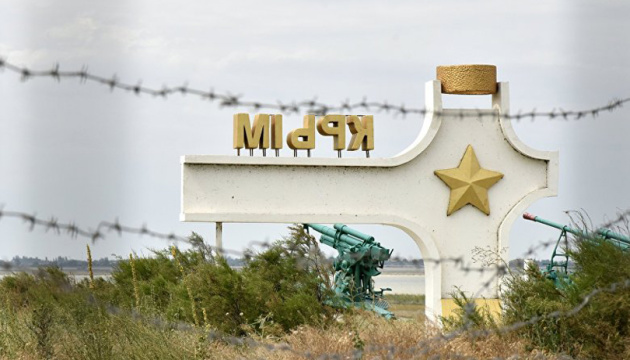 Russia putting pressure on Ukrainians in Crimea — expert
Ukrainians in Crimea are the second largest ethnic community in the occupied peninsula after the Crimean Tatars and are subjected to rigorous denationalization and assimilation by Russia.
"Along with the Crimean Tatars, Ukrainians in Crimea are subjected to systematic pressure from the occupation regime. There is a number of rigid measures taken by the Russian Federation in the occupied Crimea, which are directed against the Ukrainian community, pursuing its denationalization and gradual assimilation," Andriy Ivanets, the coordinator of the Tauride Humanitarian Platform, the candidate of historical sciences, said during the panel discussion "Crimea. Yesterday, Today, Tomorrow " at the University of Gaza in Ankara, a Ukrinform correspondent reports.
According to the statistics, the number of students studying in the Ukrainian language has decreased by 98% compared to 2014.
"Pressure put by the security forces, judicial and pre-trial pressure, threats against activists of the Ukrainian community, illegal detention and abduction. We still do not know where the abducted activists are, what happened to some of them. Complete destruction of Ukrainian political parties and organizations, persecution of religious communities in Crimea," the experts told about the situation in the occupied Crimea.
Another dangerous mechanism of assimilation of the Ukrainian community in Crimea is the illegal transfer of colonists to the Crimean territory, the scientist notes. "The composition of the population has been changed by 10-20%. Russian citizens have arrived. They do not know Ukrainian socio-cultural standards, traditions, culture. They have a negative impact on the change in the ethno-demographic composition of the Crimean population.
"It is a flagrant violation of international law, in particular of the 1949 Geneva Convention," Ivanets added.
According to him, a negative long-term trend for the Ukrainian community of Crimea is currently being formed, and this situation requires a lot of attention from the Ukrainian state. There is a need to think about the status of Ukrainians in Crimea, take the measures to support their identity, to develop a vision of how to consolidate the community of ethnic Ukrainians in Crimea after the territory is liberated from invaders.
оl