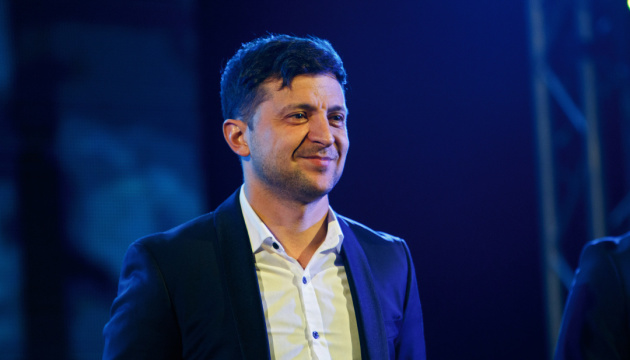 Zelensky leads polls in Ukraine's presidential race
If the presidential election in Ukraine were held in mid-February, comedian Volodymyr Zelensky and incumbent President Petro Poroshenko would go to the run-off, with Batkivshchyna Party leader Yulia Tymoshenko staying in third place, according to a survey conducted by Kyiv International Institute of Sociology (KIIS).
In particular, among all respondents aged over 18 years, 14.1% would vote for Zelensky, 9.6% for Poroshenko, and 7.4% for Tymoshenko.
Among the respondents who are going to vote in the election, 15.4% would support Zelensky, 10.5% Poroshenko, and 8% Tymoshenko.
Of those who are going to vote and have already decided on their candidate, 26.4% would vote for Zelensky, 18% for Poroshenko, 13.8% for Tymoshenko, 10.9% for Opposition Bloc leader Yuriy Boiko, 6.4% for Civil Position Party leader Anatoliy Hrytsenko, and 6.3% for Radical Party leader Oleh Liashko.
According to KIIS Deputy Director Anton Hrushetsky, at the time of the poll, the final list of candidates has not yet been known. Therefore, the respondents were offered a list of 40 candidates, which included all the main candidates, that is the list is as close as possible to the final one (44 candidates).
The all-Ukrainian public opinion poll conducted by KIIS from February 8 to 20, 2019. The institute polled 2,042 respondents aged over 18 from 110 populated localities in all regions of Ukraine (except for Crimea). In Luhansk and Donetsk regions, the survey was conducted only on the territory controlled by the Ukrainian authorities.
The poll's margin of error (with a probability of 0.95 and a design effect of 1.5) does not exceed 3.3% for figures close to 50%, 2.8% for figures close to 25%, 2% for figures close to 10%, and 1.4% for figures close to 5%.
op