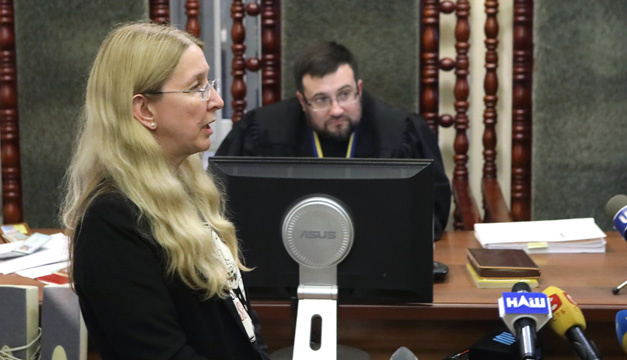 Suprun can serve as acting first deputy health minister - judge
Ulana Suprun, who was suspended as Ukraine's acting health minister, has the right to perform the duties of first deputy health minister.
Judge of Kyiv's District Administrative Court Bohdan Sanin said this at a briefing on Wednesday, an Ukrinform correspondent reported.
"The court notes that Ulana Suprun cannot participate in a Cabinet meeting and cannot determine a strategic plan of the Health Ministry. Such restrictions do not apply to other circumstances, the court has not established them. All the powers that were delegated to Suprun as first deputy health minister by a respective order or instruction remain in place. The court does not know what these orders are, but the Health Ministry knows this," Sanin said.
According to him, the court does not decide whether Suprun is entitled to sign any documents or agreements.
"We determine the scope of the powers or restrictions that are subject to a court ruling. If there is any doubt as to the signing of a document, the Health Ministry has the right to ask for relevant explanations, and the judge as part of this case will provide a respective explanation in the volume of documents to be provided," the judge said.
As was reported earlier, Kyiv's District Administrative Court on February 5 banned Suprun from taking any actions aimed at fulfilling the powers of the health minister. Such a decision was made according to a lawsuit filed by MP Ihor Mosiychuk. The government appealed this decision.
On February 11, Kyiv's District Administrative Court considered the Cabinet's petition for the lifting of Suprun's suspension as acting health minister. The court went to the deliberation room the same day, promising to announce the decision later.
Late on February 12, the court confirmed that Judge Serhiy Karakashian, who should issue a ruling at the request of the Cabinet, had stayed in the deliberation room for more than 24 hours.